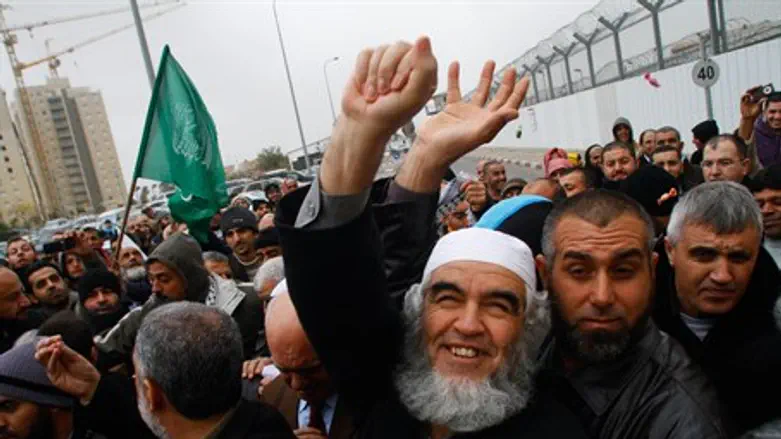 Sheikh Raed Salah leaving jail
Uri Lenz/ Flash 90
In an apparent attempt to prevent incitement and further flareups during the Muslim fast month of Ramadan which started last Thursday, Israel has issued a distancing order blocking Sheikh Raed Salah from visiting Jerusalem for six months.
Salah, head of the radical Islamic Movement in Israel, is forbidden from visiting the capital from June 25 up until this December.
The fears of incitement to violence during Ramadan are well-founded based on events since the month started; a Jewish man was murdered by an Arab terrorist in a shooting attack last Friday in Samaria, and on Sunday another Arab terrorist from Hevron stabbed a Border Patrol officer critically wounding him.
The decision to block Salah was condemned by the sheikh, who wrote on Facebook that "the Israeli occupation views itself as an unbending force, but those who know the truth about it know that the occupation is a braggart, an idiot, valueless and born by mistake from illusions and remains mistaken in illusions."
According to Salah, "the expressions of the illusions of the occupation are revealed in the evil decision to prevent me from entering Jerusalem for six months."
"Who knows if the occupation will end before the period of six months ends?," posed the sheikh, voicing his hopes for the end of Israel.
Salah has been in a legal battle over his incitement to use violence to block Jews from visiting the Temple Mount, the holiest site in Judaism - calls to racism and violence that have led MKs to launch a bill to outlaw Salah's movement.
The sheikh has labeled Israeli leaders "terrorists" and "enemies of Allah" in a speech to Muslims in Be'er Sheva, and was also jailed for five months in 2010 for spitting at an Israeli police officer. 
During a speech at a 2007 demonstration he accused Jews of using children's blood to bake matzah, invoking the infamous medieval blood libels used to trigger murderous pogroms in both Europe and the Middle East. 
Salah also spent a brief period in jail for transferring money to Hamas, and famously "reminisced" fondly over the drawing of swastikas as a child in a 2009 interview with a London-based Arabic-language TV station.