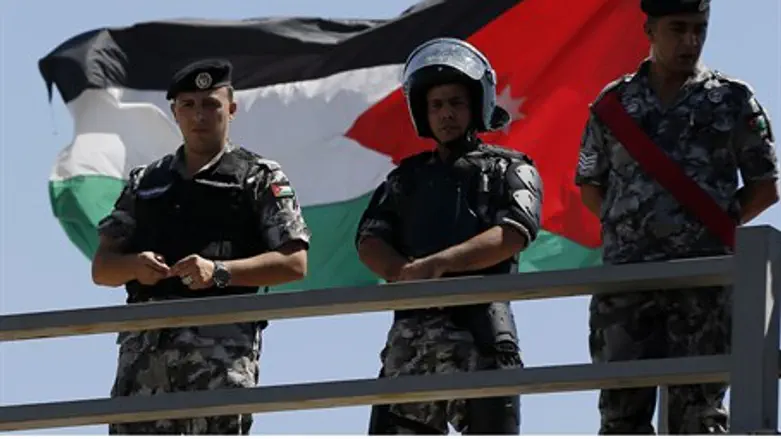 Jordanian Police (illustrative)
Reuters
French Foreign Minister Laurent Fabius asked Jordan on Sunday to comply with international procedures as it seeks the extradition of the suspected mastermind of a deadly attack on a Paris Jewish restaurant in 1982, AFP reported.
"I have asked our Jordanian friends... to respect international procedure," Fabius said in Amman during a joint news conference with Jordanian Foreign Minister Nasser Judeh.
Fabius said that such a procedure -- apparently an extradition request -- was "under way", but did not directly call for the suspect's extradition.
An Wednesday a French legal source said in Paris that an extradition request for Zuhair Mohamad Hassan Khalid al-Abassi, a 62-year-old suspect of Palestinian origin, was being prepared.
Abassi, alias "Amjad Atta", was one of three men for whom France issued an international arrest warrant earlier this year over the attack that killed six people and wounded 22.
He was detained in Jordan on June 1 and later released on bail. A travel ban was imposed pending a decision on his extradition.
A Jordanian source close to the case told AFP on Thursday that extraditing Abassi to France may prove difficult.
"Jordan does not usually extradite its citizens to other countries, even in the case of an extradition agreement," the source said, adding, "In such a case, they are generally tried in specialized Jordanian courts."
Between three and five men are thought to have taken part in the attack 32 years ago on Chez Jo Goldenberg restaurant, which was attributed to the Abu Nidal Organization, officially known as the Fatah-Revolutionary Council and which was considered one of the most ruthless of the Palestinian Arab terrorist groups.
"Amjad Atta" is thought to have been the number three in the group's "special operations committee." Today the 62-year-old terrorist is reportedly "an aging man who works in the construction sector."
AFP contributed to this report.