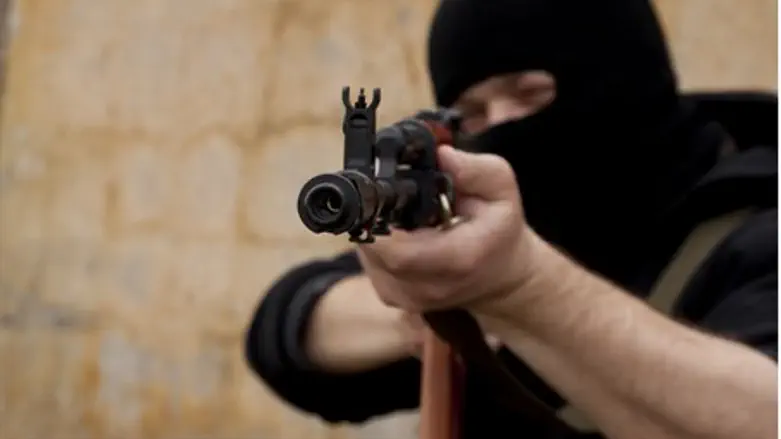 Terrorist (illustration)
Thinkstock
Extraditing to France the suspected mastermind terrorist of a deadly attack on a Paris Jewish restaurant in 1982 may prove difficult, a Jordanian source close to the case said on Thursday.
"Jordan does not usually extradite its citizens to other countries, even in the case of an extradition agreement," the source told AFP, speaking on condition of anonymity. "In such a case, they are generally tried in specialized Jordanian courts."
Zuhair Mohamad Hassan Khalid al-Abassi, alias "Amjad Atta," was one of three terrorists for whom France issued an international arrest warrant earlier this year.
In the attack that they committed, six people were murdered and another 22 were wounded. They began the attack on the Chez Jo Goldenberg restaurant, a busy eatery in the Marais district, a popular largely Jewish neighborhood in the center of Paris, by hurling a grenade into the dining room.
Two men then entered the restaurant, which had around 50 customers inside, and opened fire with "WZ-63" Polish-made machine guns. The terrorists also shot at passers-by as they escaped down the street.
Al-Abassi was detained in Jordan on June 1 and later released on bail and a travel ban was imposed pending a decision on his extradition.
A French legal source in Paris said on Wednesday that an extradition request was under way.
Between three and five men are thought to have taken part in the attack 32 years ago on Chez Jo Goldenberg restaurant, which was attributed to the Abu Nidal Organization, officially known as the Fatah-Revolutionary Council and which was considered one of the most ruthless of the Palestinian Arab terrorist groups.
"Amjad Atta" is thought to have been the number three in the group's "special operations committee." Today the 62-year-old terrorist is "an aging man who works in the construction sector," the Jordanian source said.
He appeared without legal representation before Judge Talal al-Saghir, who specializes in extradition cases.
The source said that when asked if he was the person being sought by Paris in connection with the attack, the suspect replied in the affirmative.
The judge then ordered his passport to be surrendered and released him on bail, pending resolution of the issue.
Security sources said Abassi was detained in the city of Zarqa some 30 kilometers (18 miles) northeast of Amman which hosts one of the kingdom's largest "Palestinian refugee" camps.
Zarqa was the home town of Abu Musab al-Zarqawi, the late leader of Al Qaeda in Iraq who was killed by a US air strike in 2006.
AFP contributed to this report.