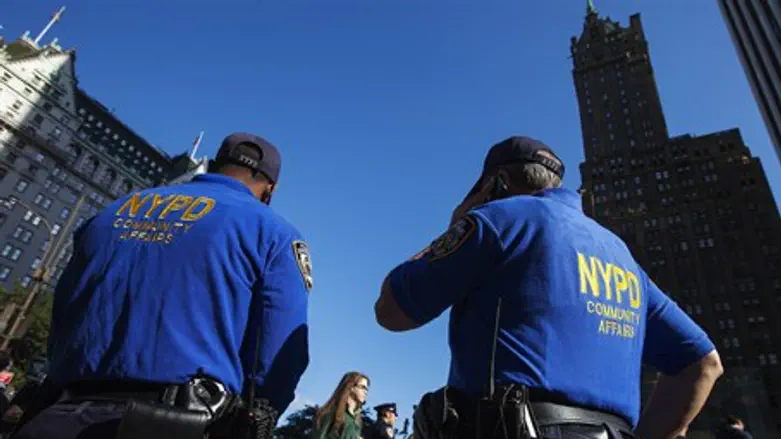 NYPD officers
Reuters
A 21-year-old self-declared US supporter of the Islamic State terror group was arrested in New York after trying to stab an FBI agent on Wednesday, officials said, according to AFP. 
Fareed Mumuni, 21, is the third suspect detained in connection with an alleged plot to bomb the city on behalf of ISIS, which has declared a "caliphate" based in Iraq and Syria.
Prosecutors have identified one of the other suspects as fellow New Yorker, Munther Omar Saleh, from Queens.
Mumuni was arrested at his home on Staten Island after lunging at an FBI special agent with a kitchen knife. The agent was wearing body armor and sustained only minor injuries.
A search of his mother's car, which he also used, unearthed a duffel bag containing another large kitchen knife, court papers said.
Mumuni allegedly confessed to pledging allegiance to ISIS, intending to travel to ISIS-controlled territory and to discussing how to build a pressure cooker bomb with Saleh.
Saleh was arrested last Saturday -- also after allegedly trying to attack a surveillance officer with a knife.
Court papers say that Saleh also subsequently confessed to pledging allegiance to the ISIS group.
On May 7, Saleh allegedly told an informant he was "trying to do an op" -- shorthand for operation -- and emailed himself information from the Internet on how to build a pressure cooker bomb.
Prosecutors allege that Saleh and the third suspect searched online for ingredients and tools to make a bomb, such as a pressure cooker, drill, LED light, propane and a garden hose.
At the end of May, Saleh looked up New York landmarks and tourist attractions on the Internet to assess potential targets for a bomb attack, the court papers said.
Mumuni and Saleh also discussed ways to attack law enforcement -- using guns and a bomb -- by telephone, prosecutors say.