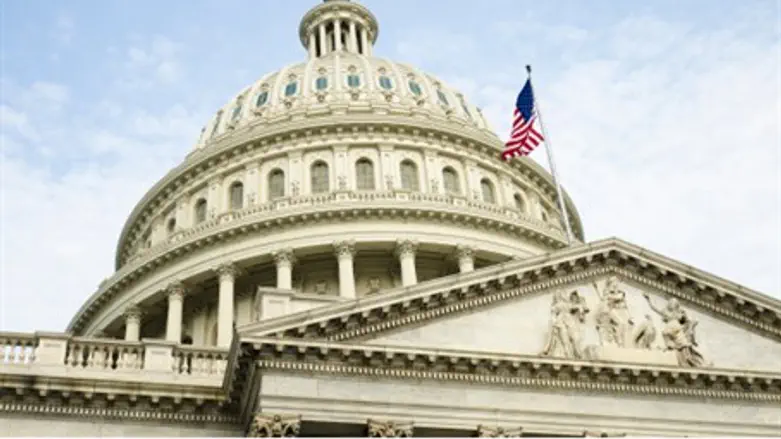 US Capitol Building
Thinkstock
A new resolution has been submitted to the US House of Representatives revealing the rampant anti-Israel and anti-Semitic incitement rampant in the Palestinian Authority (PA), and calling for American action to counter the phenomenon.
Palestinian Media Watch (PMW), a leading anti-incitement watchdog, hailed the resolution on Tuesday, noting that 14 of the 16 examples of incitement presented in the resolution were provided by PMW.
US Representative Ileana Ros-Lehtinen (R-FL) introduced House Resolution 293 earlier this month to the House Committee on Foreign Affairs.
The resolution begins by pointing out that "the 1995 Interim Agreement on the West Bank and the Gaza Strip, commonly referred to as Oslo II, specifically details that Israel and the Palestinian Authority shall 'abstain from incitement, including hostile propaganda, against each other and, without derogating from the principle of freedom of expression, shall take legal measures to prevent such incitement by any organizations, groups or individuals within their jurisdiction.'"
In violation of the agreement, the resolution notes that PA chairman Mahmoud Abbas "repeatedly describes released Palestinian terrorists as 'heroes' and Fatah's military wing publicly threatens to kidnap soldiers and launch missiles at Israel on the Fatah Facebook page and website."
In fact, Al-Aqsa Martyrs' Brigades, the "military wing" of Abbas's Fatah faction, actively took part in last summer's terror war and launched rockets at Israeli civilian centers.
The resolution also pointed out how the PA "pays monthly 'salaries' to families of Palestinian terrorists incarcerated in Israel," payments that are made possible by US taxpayer funds in the form of massive donations.
It also detailed numerous statements by several PA officials, including Abbas and his incitement for violence at the Temple Mount, and noted how the PA repeatedly presents maps of "Palestine" replacing all of Israel.
Ros-Lehtinen's resolution likewise noted that Oslo II dictates that educational systmes on both sides must "contribute to peace." It then reveals how the PA educational system has cited Nazi leader Adolf Hitler as a role model and incited against Jews on a regular basis.
A call for action
The resolution went on to note that "section 7040 (e) of the Consolidated and Further Continuing Appropriations Act, 2015, requires the Secretary of State, if the President waives section 7040 (a) of that same Act, to 'certify and report to the Committees on Appropriations prior to the obligation of funds that...the Palestinian Authority is acting to counter incitement of violence against Israelis and is supporting activities aimed at promoting peace, coexistence, and security cooperation with Israel."
Given that "the Palestinian Authority has not fully lived up to its prior agreements with Israel to end incitement and should do more to prepare the Palestinian people for peace with Israel," the resolution called for the House of Representatives to take several concrete steps.
One was to express support of those Israelis and Palestinian Arabs who are cooperating together in various fields.
It then urges the House to reiterate "strong condemnation of anti-Israel and anti-Semitic incitement in the Palestinian Authority as antithetical to the cause of peace."
The resolution urges Abbas and PA officials "to discontinue all official incitement and exert influence to discourage anti-Israel and anti-Semitic incitement in Palestinian civil society."
And finally, it "directs the United States Department of State to regularly monitor and publish information on all official incitement by the Palestinian Authority against Jews and the State of Israel."