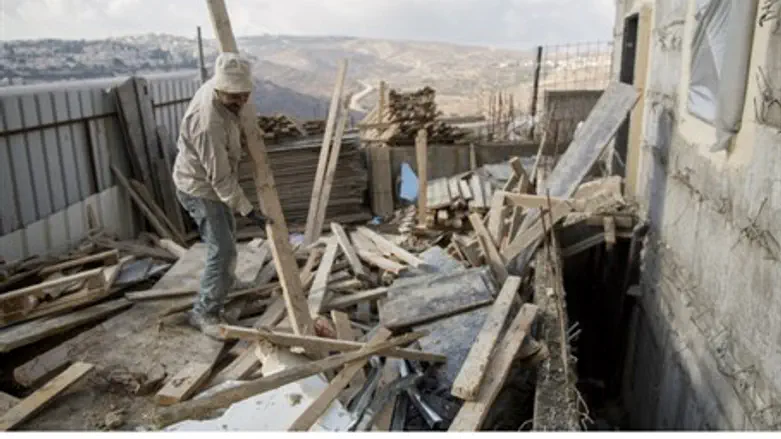 Construction (illustrative)
Yonatan Sindel/Flash 90
Finance Minister Moshe Kahlon appears ready to make good on his promises to lower housing prices – but critics said that the first move he was making on the subject was actually likely to backfire.
On Sunday, at Kahlon's behest, the government significantly increased the purchase tax on apartments and homes purchased for investments. The increases will tag between 5% and 10% on the price of an investment property.
According to the new tax schedule, the purchase tax on a home valued at NIS 1.16 million (about $270,000) or below – considered a "reasonable" purchase price for a home or apartment almost anywhere in the country – will jump from NIS 55,000 ($13,000) to NIS 93,000 ($23,000). On homes valued between NIS 1.6 million and NIS 2 million, taxes will jump from NIS 40,000 ($11,000) to NIS 60,000 ($16,000). Similar increases apply to more expensive homes.
The theory behind Kahlon's plan is to increase the supply of available homes, by making housing less attractive as an investment. An investment property is defined as one purchased by an Israeli who already owns a primary residence, or a foreign buyer. According to many sources, it is the investors who are outbidding the young families and wresting away from them the opportunity to purchase homes at a reasonable price.
But Avner Levy, chairman of the Tel Aviv Contractors Organization, said that, like with so many other attempts by the government to intervene in the housing market, this one was likely to fail as well. According to Levy, many of the apartments purchased for investment are supplying the rental market, which is also very tight – and by making it harder to invest in real estate, the government was essentially further tightening the rental market, with the resultant increase in rents.
Apartments, meanwhile, are unlikely to go down in price, because contractors know they can get the money they want from purchasers – so the only effect of the new rules will be to make housing more expensive for young couples.