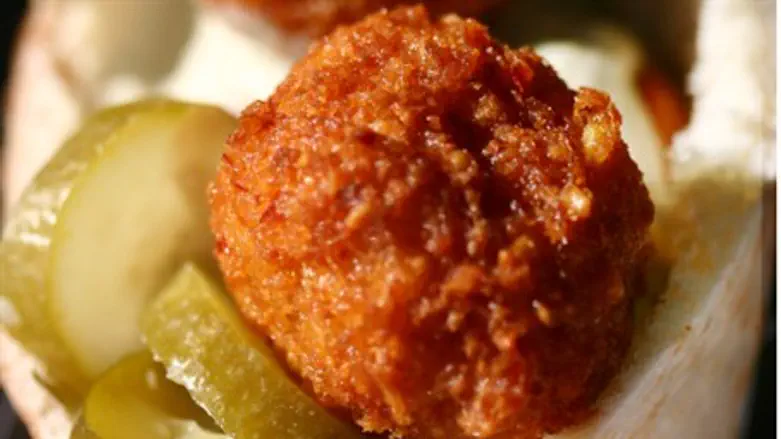 Falafel in Pita
Flash 90
The world celebrates International Falafel Day on June 12 - and this year's event is bigger than ever before. 
Falafel, typically associated with Israeli cuisine, consists of deep-fried patties made from chickpeas served in a pita or laffa, a soft, fluffy flatbread. Popular toppings include Israeli salad (cucumbers and tomatoes with salt, pepper, and often onions), hummus (chickpea spread), tehina, and french fries. 
American-Israeli blogger and entrepreneur Ben Lang launched the day in 2011, following the widespread success of International Hummus Day.
"Hummus day did so well its first year, I thought, 'why not try again and see if it could succeed also,'" Lang stated to Arutz Sheva Friday morning. Lang launched Hummus Day in 2011 to get the world talking about hummus and uniting people in their love for Israel via food. 
As with Hummus Day, Lang's Falafel Day website offers a map of falafel places by locale to aid interested readers in trying falafel. No less than 350,000 people have already pledged to participate in the event via a Facebook page, and hundreds have posted photos of their meal.
But Lang says 2015 marks the first year the celebration of this quintessential part of Middle Eastern cuisine is stretching beyond Israel and into the Arab world. 
"The event is blowing up in Syria, Lebanon, and Egypt, which it never has before," Lang stated to Arutz Sheva Friday morning. "That's what's really exciting." 
"It just grew and grew and grew."