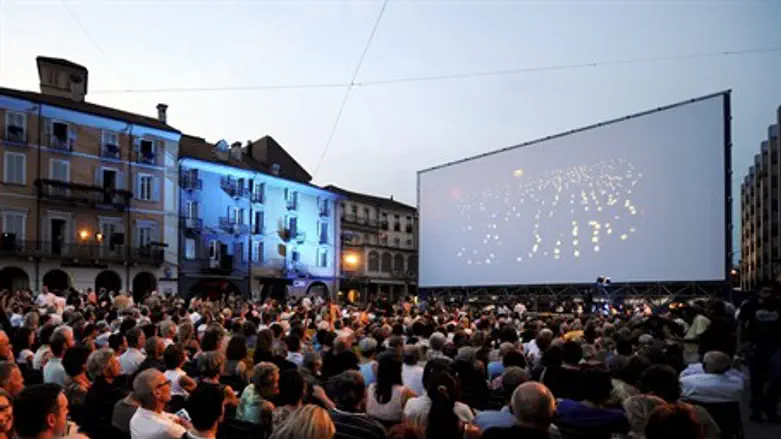 (Illustration)
Reuters
A group of 40 British filmmakers and artists have sent an open letter to The Guardian on Monday calling for the Curzon and Odeon cinema chains to stop screenings of an Israeli film festival opening in London this week. 
Seret 2015, the London Israeli Film and Television Festival, will open Thursday with a gala screening at Bafta, followed by a number of screenings at the aforementioned theaters in the days to follow. 
Denying the boycott is about refusing to show films by individual filmmakers, the letter stresses cinemas should cancel the screenings because the Israeli state is "promoting this festival and supporting it financially."
"By hosting it, these cinemas are ignoring the 2004 call by Palestinian civil society for sanctions against Israel until Israel abides by international law and ends its illegal displacement of Palestinians, discrimination against them, and occupation of their land."
"By benefiting from money from the Israeli state," the letter continues, "the cinemas become silent accomplice to the violence inflicted on the Palestinian people. Such collaboration and cooperation is unacceptable. It normalizes, even if unintentionally, the Israeli government's violent, systematic and illegal oppression of the Palestinians."
Festival founders responded to the boycott threat by stressing their appreciation for "the support the Israeli government makes to the development of the film and television industries in Israel, and to assisting us in presenting Israel's creativity to UK audiences."
"Our festival is a showcase for the many voices throughout Israel, including Arab Israelis and Palestinians, as well as religious and secular groups. These are highly talented film-makers and actors, working together successfully, to provide entertainment and insight for film and television lovers internationally."
"Freedom of expression in the arts is something that the British have worked so hard to defend. An attempt to block the sharing of creative pursuits and the genuine exchange of ideas and values is a disappointing reaction to a festival that sets out to open up lines of communication and understanding."
This is not the first time an attempt has been made by anti-Israel activists to cancel a film festival linked to Israel.
Last year, the Tricycle Theater caved to pressure and decided to boycott the UK Jewish Film Festival due to a small grant given to the festival by the Israeli embassy. 
That boycott backfired, however, when Jewish sponsors of the theater responded with a boycott of their own - withdrawing funding from the Tricycle, which reacted by quickly backpedaling on the boycott.