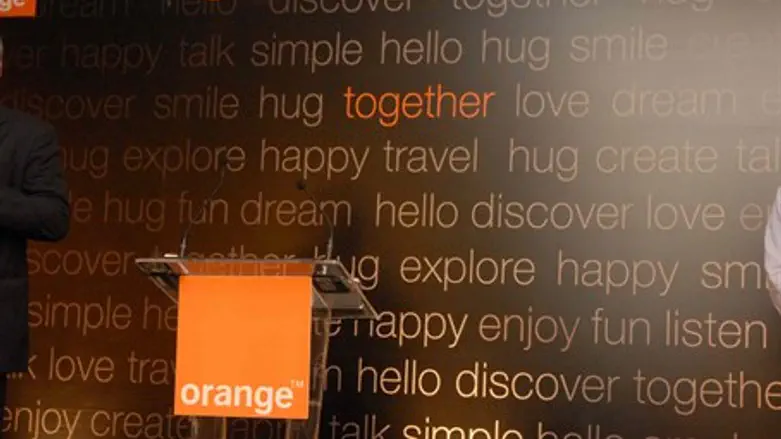 Orange Israel
Yossi Zeliger/Flash90
Among the many Israelis upset by Orange CEO Stephane Richard's insulting comments Wednesday was Itzik Benevisti – the Director General of Partner, which franchises the name Orange from Richard's firm.
"I am as livid as any other Israeli," said Benevisti. "No one will tell us who to serve and where to give service."
Richard asserted during a press conference in Cairo on Wednesday that he would end the company's franchise contract with Israel's Partner Communications "tomorrow" if he could get away with it.
In a letter to employees Thursday, Partner CEO Haim Romano said that "if Orange's owner France Telecom wishes to end its association with us, we will be happy to do so in return for the hundreds of millions of euros we have invested in the brand name Orange over the years. We will use this money to invest in our customers, and citizens, and our country."
Orange has been targeted by a BDS campaign in Egypt and several European countries. The company raised the ire of BDS groups who allege that the Israel operation provided free phone calls to IDF soldiers fighting in Gaza during last summer's Operation Protective Edge.
In the past several weeks, large numbers of Egyptians have switched companies, putting a dent into the company's business there. Richard was in Cairo, among other reasons, to plead with customers not to leave the company.
The only reason Orange has not terminated its licensing contract with Partner – from which, Richard said, "we make very little money" - was to avoid litigation in Israeli courts.
"Sorry to say, but a dispute with Partner when you have zero legal position in Israeli courts is not something that I would recommend for my company. I am not going to pay hundreds of millions of euros only because I would have (to) take a risk, a huge risk, in terms of the penalties that we could have if we entered into this kind of brutal process," he said.
Benevisti said Partner had recently renewed its licensing contract, which allows it to use the Orange name for the another ten years – and during that time, Orange Israel will provide services to IDF soldiers on the front lines, or anyone else it wants to, without regard for Richard's sensibilities.
"We will find time to discuss this matter with them and we will respond as needed," said Benevisti. "They are trying to isolate us, and they themselves are under pressure, from what I understand. We intend to fight this and we will not allow ourselves to be pressured.
Film and television mogul Haim Saban is a majority shareholder in Partner. Speaking Thursday, Saban said that he fully supported the company. "I am proud of my association with Partner," said Saban, who is known for his left-wing views.
Speaking to business daily Calcalist, Saban said that the comments by Richard were "regrettable. We have been using the name Orange since 1998, before the current owners, France Telecom, were involved. Partner is an Israeli company and will continue to provide service to all Israelis, regardless of who they are," said Saban.
Shares of Partner on the Tel Aviv Stock Exchange were some 4% lower Thursday morning, as shareholders shied away from the controversy and its possible consequences.
The shares have lost 54% since the beginning of the year, over losses in customer numbers and revenue because of increased competition by low-cost cellphone service firms.