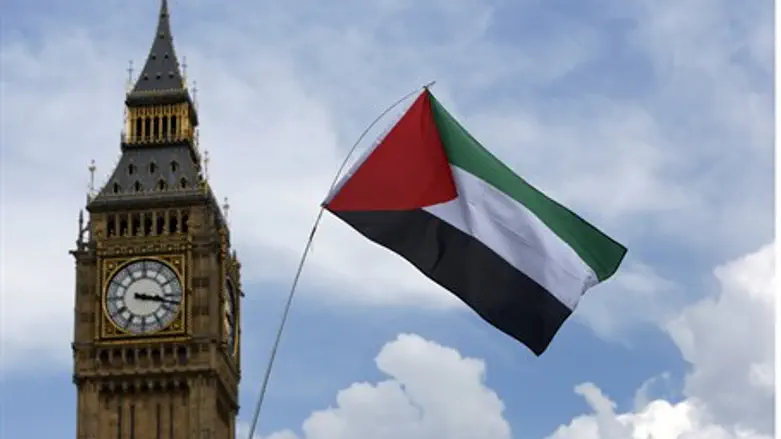 PLO flags in London (file)
Reuters
The representative body of all 133 universities in the United Kingdom has soundly rejected the boycott of Israel declared Tuesday by the UK's official student body, the National Union of Students (NUS). 
Universities UK said in a statement Wednesday that it "firmly opposes academic boycotts on the basis that they are inimical to academic freedom, including the freedom of academics to collaborate with other academics."
"Given the reported perception in Israel that UK universities support an academic boycott," the statement continued, "the board of Universities UK wishes to confirm its previously stated position that it is firmly opposed to any academic boycott of Israeli universities."
"The board also confirms its view that all universities must uphold, in the interests of free expression of ideas, the fundamental right of academics to question national and international policies."
The NUS Executive Council voted on Tuesday to boycott Israeli companies and officially align itself with the Boycott, Divestment and Sanctions (BDS) movement; the vote passed by secret ballot 19-14. 
The move to boycott follows last year's decision by NUS to endorse the BDS movement and encourage students to participate in actions against Israel, triggering condemnation from the Union of Jewish Students (UJS).
Both UJS and a number of leading NUS member denounced the June 2 vote put forth by the student union at London's School of Oriental and African Studies (SOAS), a known hotbed of anti-Israel activities. 
"Anti-Semitism is like a virus, it mutates and infects everything it touches. It's mutated into BDS and NUS is infected," NUS vice-president Joe Vinson tweeted after the motion passed.