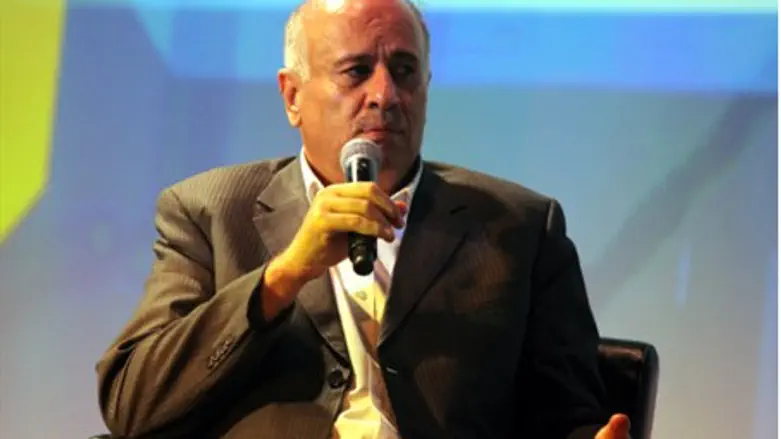 Jibril Rajoub
Flash 90
A day after withdrawing his request to have Israel suspended from FIFA, the head of the Palestine Football Association, Jibril Rajoub, on Saturday clarified he intends to try to have Israel suspended again in the future.
"I hope that the Israelis understand that the suspension has not been removed from the agenda of FIFA but the sanctions were postponed until the committee that was established completes its work," Rajoub told Kol Yisrael radio.
"Soccer players and fans in Israel should pressure their racist government. We will assess the situation and see if Israel changed its tune and if not - we will move forward," he threatened.
In the interview, Rajoub also responded to a comment made on Facebook by Transportation Minister Yisrael Katz on Friday. Katz, responding to Rajoub's withdrawing the suspension bid at FIFA, wrote that Rajoub should be "jailed in the Muqata" in Ramallah.
"Let him bark as much as he wants," said Rajoub.
Rajoub had campaigned to have Israel suspended from FIFA because, he claimed, Israel was restricting the movement of Palestinian Arab players.
FIFA president Sepp Blatter has recently spoken out against suspending the Israeli Football Association but Rajoub was able to get the request placed on the agenda for the FIFA Congress which took place Friday.
Rajoub, who is senior member of Palestinian Authority chairman Mahmoud Abbas's Fatah movement, is known for his inciting statements against Israel, which include claiming in a television interview that Nazi leader Adolf Hitler could have learned from Israel about extermination camps.
He has suggested in the past that Israel "should be removed", and last year supported Hamas's threats to kidnap IDF soldiers on PA TV.