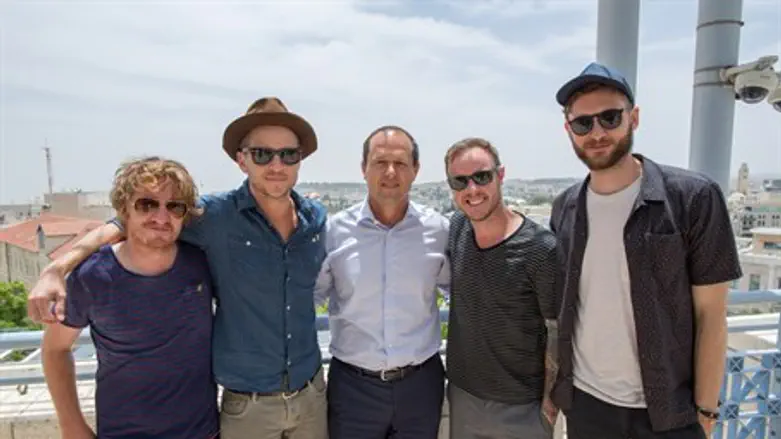 One Republic with Jerusalem Mayor Nir Barkat
Yonatan Sindel/Flash 90
In a time where musicians and artists frequently bash Israel and call for boycotts as part of the BDS movement, massively popular US pop-rock band One Republic's visit and performance on Thursday night was a breath of fresh air that was as rare in its pro-Israel message as it was in its musical quality.
Tel Aviv's Park Hayarkon was packed with 20,000 jubilant youthful fans on Thursday night, who, after an opening performance by Israeli singer Harel Skaat, soaked in over an hour-and-a-half of pure One Republic with no gaudy effects and no playback or backup on vocal and instrumental tracks - just raw musical talent including on the cello and piano, reports Yedioth Aharonot.
It was the debut performance in the Jewish state for the famous band which hails from Colorado.
Towards the end of the performance in a break between songs, lead singer and songwriter Ryan Tedder spoke about the boycott movement and antagonism facing Israel. 
"I know how hard it is to bring a new act here, I know how many people cancel on you and that's bulls**t," said Tedder. "Where we grew up we don't take sides, we just love people, good people."
Promising a repeat performance in Israel, the band members said, "when we come back here we're going to bring you new music and a new album," an announcement met with the thunderous approval of the audience.
Showing their love of Israel, the band even had a giant image of the Israeli flag shown on the stage's screens.
Visit to an Iron Dome battery
That support of the Jewish state was on display Wednesday as well, when the band visited soldiers at an Iron Dome battery at an IDF base in Ashkelon, just a mere day after a Grad rocket fired by terrorists in Gaza struck the area.
The band members were surprised at how young the soldiers operating the life-saving anti-missile system were according to a post on the Israeli Air Force (IAF) Facebook page, and said they feel the "safest" in Israel.
One Republic also stopped in Jerusalem, Tiberias, Kibbutz Ginosar, Caesarea and also another IDF base, this time in the Golan Heights.
Sources close to the band said the members were impressed by Israel's religious sites, and said there is a huge gap between Israel's presentation on international news and their own impression of the state, according to Yedioth Aharonot.
When the band's visit to Israel was first announced in January, Tedder said, "we wanted to perform in Israel and visit it since we established the band. This performance will be the realization of the wish of a lifetime. We can't wait."
One Republic propelled itself to stardom largely through social media, initially using Myspace to get exposure and then getting massive views on YouTube. It was founded 12 years ago with the debut album Dreaming Out Loud, and its second album Waking Up released in 2009. Its most recent celebrated album is Native, released in 2013.
Tedder has also made a name for himself as a leading songwriter and producer for top singers including Adele, Beyonce, Maroon 5, One Direction and others.