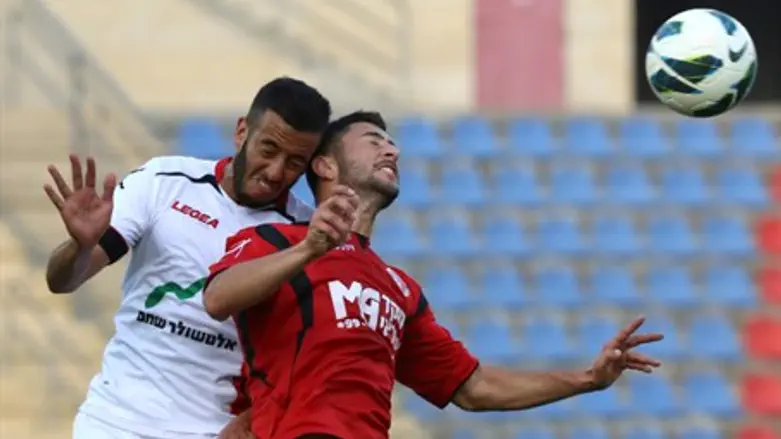 Soccer (illustration)
Flash 90
Players and fans of the youth soccer team of the Negev Bedouin town of Tel Sheva turned a game between their team and Hapoel Merhavim into a violent nightmare Thursday.
The game was sportive as long as the Arab team led 1-0. The trouble began when Merhavim evened the score in a free kick. A Tel Sheva player did not like this turn of events, and struck the referee in the head. The referee, in response, decided to stop the match and blew his whistle.
At this point, dozens of Tel Sheva fans swarmed onto the field and began severely beating the Hapoel players.
"Everyone got beat up, it was really frightening, 200 people jumped on us," wrote a Merhavim player on Facebook.
Another player was quoted in Ynet as saying: "After the equalizing goal, we ran to the coach and hugged him, and then I saw an intifada. One of their players took off his shirt and began beating the referee, and this caused a reaction by the crowd, from outside. The fans jumped over the fences and ran toward us. A player kicked our coach, there were chains flying until the police came and stopped the violence. These were 15 minutes that seemed like an eternity."
"We got rocks and chairs thrown in our faces. This thing lasted 15 minutes. Fifteen minutes in which I wasn't sure I'd be returning to my family. And now, I ask, why does this always happen in games with Arabs? Why does violence enter into sports?," the player who scored the goal asked on Facebook. "I hope the people who need to see this will see it, and that this doesn't happen again. Tel Sheva needs to be off the soccer fields, and the Soccer Federation shouldn't sponsor them."
One player, Elad Dimri, reportedly suffered a broken arm. Other players reportedly suffered broken teeth. Police have launched an investigation.