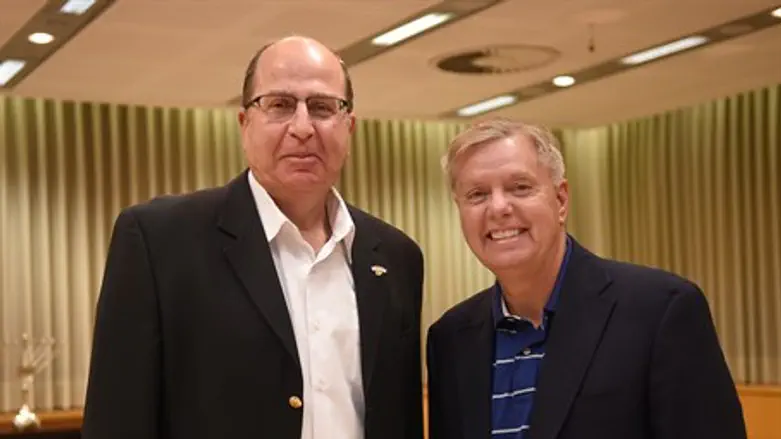 Defense Minister Moshe Ya'alon and Senator Lindsey Graham
Diana Hananshvili/Defense Ministry
Defense Minister Moshe Ya'alon on Wednesday evening said that Israel's airstrike on terrorist infrastructures in Gaza in retaliation for a rocket attack on southern Israel makes clear that it has no intention of ignoring rocket fire onto its territory.
IAF aircraft on Wednesday morning struck four terrorist infrastructures in southern Gaza, in response to a Grad rocket attack on southern Israel on Tuesday evening.
"We see Hamas, which controls Gaza, as being responsible for what goes on there," Ya'alon said during a meeting with visiting American senator Lindsey Graham.
"We are not going to tolerate any threat to the State of Israel and its citizens," he stressed.
"In essence we have here an incident where there is a provocation, firing on civilians in Israel, we have a terrorist organization that carries out the shooting at Israel and we have a political entity that controls Gaza," continued Ya'alon. "This is actually a terrorist entity, grown as a terrorist organization, functioning as a terrorist organization, but it has now some responsibility, if not exactly official, for what is happening in the Gaza Strip, so our action was both against the organization that fired as well as the responsible organization that controls the Gaza Strip."
Turning to Senator Graham, Ya'alon said Israel highly appreciates the United States' contribution of to Israel's security.
"We are very appreciative of the cooperation between the defense establishments, between the armies and intelligence agencies," he said.