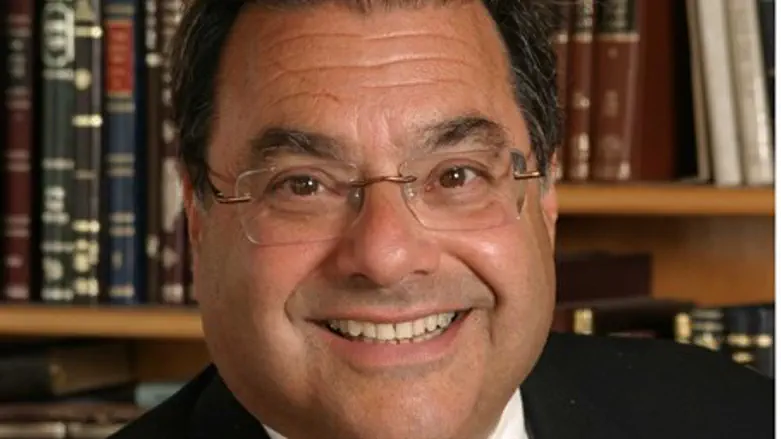 Rabbi Shlomo Riskin
Chaim Snow
The Chief Rabbinate on Wednesday hinted that it was under strong pressure to remove Rabbi Shlomo Riskin from his position as Chief Rabbi of Efrat, the community he helped form and build decades ago. The pressures are "unwarranted" and "out of place," a source in the Chief Rabbinate said.
With that, the source hinted, Rabbi Riskin's term may not be extended after all, it appeared. Regarding the renewal of Rabbi Riskin's position, the source said that the Rabbinate intends to follow procedure. "We are not a 'rubber stamp' and we do not automatically extend the term of a local rabbi," the source said.
At issue is Rabbi Riskin's stance on conversion, and his apparent plan to establish a court for conversion together with other local community rabbis. Speaking to Arutz Sheva, Rabbi Riskin said that solving the conversion issue was a key matter for Israeli society. "There are half a million Jews here, who were borne of Jewish mothers," he said. "We could easily set up courts to convert them properly. Those courts could and should be more accepting, but they would operate properly under Jewish law."
At a meeting earlier this week, the Chief Rabbinate was unwilling to extended Rabbi Riskin's tenure in the post and called for the Rabbi to present himself at the council's next meeting for discussion. While the Chief Rabbinate says this issue is purely technical - as a Chief Rabbi over 75, Riskin is required to submit a written request to be reappointed, which he has not yet done – Haaretz in a reported quoted sources that said that the decision was political.
The Tzohar Rabbinical Organization reacted furiously to the rumors, asserting that "above any effort to depose Rabbi Riskin flies a clear red flag of revenge directed against his positions and halakhic decisions."
"Rabbi Riskin, who has led the community of Efrat with love and dedication and is beloved by so many, is a true symbol of spiritual leadership. And instead of exalting his accomplishments, figures in the Chief Rabbinate are choosing to force the Rabbi into early retirement because of their political considerations or apparently so that they can appoint insiders in his place."
In an interview with Army Radio, said that he "did not want to believe that because of the conversion issue, which is a very important issue today in Israel, they want to terminate my service in the rabbinate." Rabbi Riskin said that he "respects" the Rabbinate, but notes that he believes that it should broaden its approach toward Jews. "I do not do anything outside the halakhic [Jewish law - ed.] consensus to open the gates of conversion," he noted.
In his interview with Arutz Sheva, Rabbi Riskin said he would probably go ahead with his plans, Rabbinate or not. "The salary for me is very secondary," he said. "But I want the Rabbinate to extend my contract anyway, because I don't see any reason not to. I hope the Chief Rabbis understand this, and if they have any questions they can ask me. If they do not renew my contract, I will seek assistance at the High Court."
Speaking Wednesday, the Rabbinate source, while declining to name the source of the tension, said that "the harsh and bullying language being used on this matter against the Rabbinate, the Chief Rabbis, and rabbis in communities, are a very serious matter. This is not the way of our Torah," the source said.