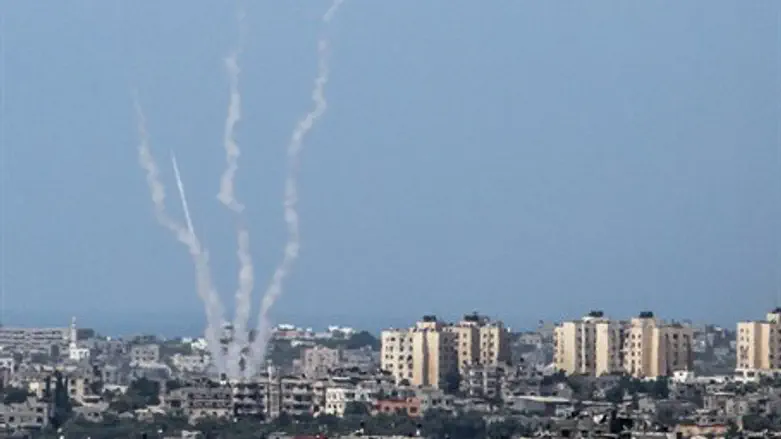 Gaza terrorists fire rockets (file)
Albert Sadikov/Flash 90
MKs from left and right on Wednesday responded to the rocket attack on Israel a day earlier by calling for Hamas heads to roll – and for Israel to put an end to the terror group's control of Gaza.
Why this has not happened is a puzzle, said at least one MK.
MK Yinon Magal (Jewish Home) told Arutz Sheva that "Hamas must learn that it has something to lose when it allows this kind of attack, and it must understand that if it tries to fight Israel again it will absorb great losses, to the extent that it will never again be able to raise its head."
MK Miki Zohar (Likud) said that Israel's response "must be clear. We can have zero tolerance for these attacks. Our enemies must understand that we will hit back if they hit us, and we can hit harder. I hope the IDF will give the proper response. Unfortunately, we did not win the war in last summer's Operation Protective Edge, although we did give Hamas a clear message. It must be clear that we are strong and will defend ourselves."
Air raid sirens sounded in towns across southern Israel Tuesday evening at 9:02 p.m, as the IDF confirmed that at least one Grad rocket fired from Gaza struck near the community of Gan Yavneh, near Ashdod. Some residents of the south reported seeing Iron Dome missile defense batteries deploying to intercept at least one incoming rocket. Sirens were heard in Ashdod, Ashkelon and in numerous towns and villages in the Lachish and Hof Ashkelon regions close to Gaza. No injuries were reported.
After Operation Protective Edge last summer, the southern border has been relatively quiet, although there are persistent rumors that Hamas has succeeded in replacing many of its missiles and rebuilt at least some of the terror tunnels that were destroyed by the IDF. Many had hoped that Israel would use the opportunity to chase Hamas out of Gaza altogether, but that did not take place.
MK Yoel Hasson (Zionist Camp/Labor) thinks he knows why. "Hamas is the greatest stumbling block in the peace process, and Prime Minister Binyamin Netanyahu knows this," he said. "Thus he is reluctant to beat the terror group and shut it down. He wants to keep them around.
"One would think that now, with a completely right-wing government in power, would be the time to pursue Hamas to the bitter end," said Hasson. "With that, there is no right or left, or pro- or anti-Zionist on this matter. Hamas is Netanyahu's excuse not to make a deal with the Palestinians. This is the sad and cruel truth."