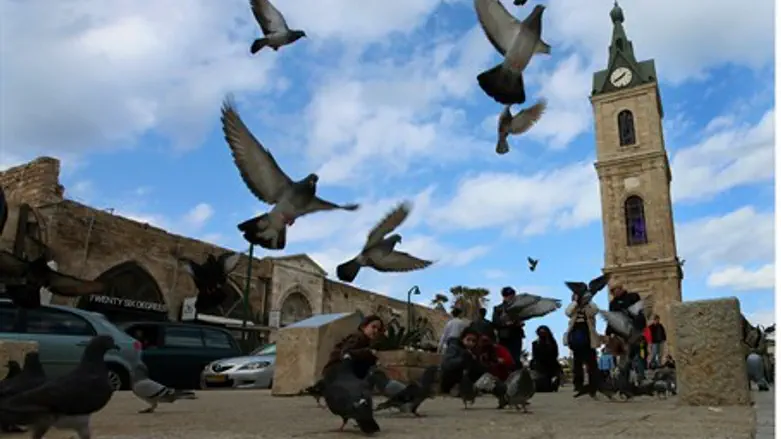 Yafo's iconic clock square
Moshe Shai/Flash 90
The building plan to construct thousands of new housing units in Yafo (Jaffa), a welcome development as Israel suffers in the grip of a nationwide housing crisis, is being met with condemnation among radical leaders of the city's Arab population.
The plan, which was passed by the Israel Land Authority and the building council of the Tel Aviv-Yafo municipality, was denounced by Abd al-Kadr Satal, chairman of the Popular Committee of Yafo.
Despite being an Israeli citizen and holding a post in the city, Satal on Tuesday gave an interview to Palestine, the newspaper of the Hamas terrorist organization.
In it, he called the new and much needed construction plan "a stage in the policy of the occupation government to Judaize the city."
Satal said  leaders of the Arab community demanded that a portion of the new apartments be specifically designated for Arab residents of Yafo, and claims the authorities opposed that demanded, insisting on "expelling" the Arab residents.
He said that the Arab residents refuse to be moved out and intend to fight against the building plan until alternative housing is found for them in Yafo, or until the Arab residents are integrated into the new plan.
In the coming days the leaders of the Arab community in Yafo are to meet so as to plan how they will react to the new building plan.
Regarding Israel's housing crisis, many have noted that developing Judea and Samaria would solve the shortage, given that over 90% of the region is said to be unpopulated. However, the Israeli government has covertly frozen all Jewish construction in the area since late 2013 amid the peace talks, despite the lack of any formulated international demand to do so.