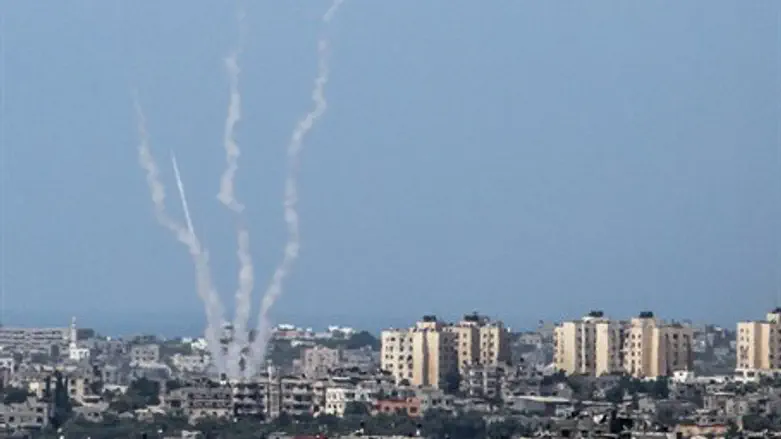 Gaza terrorists fire rockets (file)
Albert Sadikov/Flash 90
Air raid sirens sounded in towns across southern Israel Tuesday evening at 9:02 p.m, as the IDF confirmed that at least one Grad rocket fired from Gaza struck near the community of Gan Yavneh, near Ashdod.
Some residents of the south reported seeing Iron Dome missile defense batteries deploying to intercept at least one incoming rocket.
Sirens were heard in Ashdod, Ashkelon and in numerous towns and villages in the Lachish and Hof Ashkelon regions close to Gaza.
No injuries have been reported.
The border between Israel and Hamas-held Gaza has remained largely quiet since the end of Operation Protective Edge last summer.
But there have been intermittent attacks by terrorists, including mortar fire last month which hit an open area in the Shaar HaNegev region.
The IDF responded to that incident with tank fire directed towards the source of the rocket fire.
As in most of the attacks since a ceasefire was declared between Israel and Gazan terrorists in August, security sources are already reporting that this latest rocket fire was launched by a rival faction to Hamas, and the result of an "internal dispute." 
According unnamed security sources cited by Walla! News, the rocket was launched from northern Gaza during a dispute between rival factions within the Islamic Jihad terrorist group. 
The clashes involved a spate of tit-for-tat kidnappings, and escalated when one faction fired rockets at Israel.
Feuding Gazan factions have fired before at Israeli civilians as a means of provoking a response against rival factions, or as potentially dangerous form of saber-rattling.
Those reports however have not yet been confirmed.
Meanwhile, Israeli Culture and Sports Minister Miri Regev (Likud) laid the blame squarely at the door of Gaza's Hamas rulers.
"It is a shame that Hamas are trying again to escalate the security situation in the south," said Regev in a statement responding to the rocket fire.
"The State of Israel must respond to every instance of fire towards the citizens of Israel."