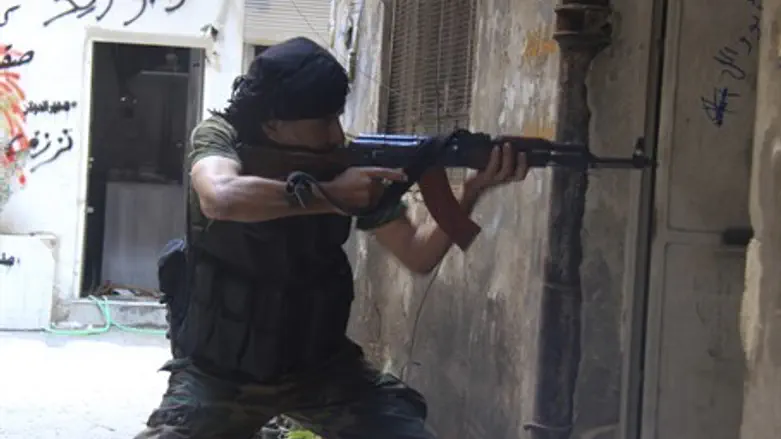 Syrian rebel fighter in Yarmouk (file)
Reuters
Islamic State group jihadists in Syria are trying to retake positions they lost in previous fighting in the Yarmouk refugee camp in southern Damascus, a Palestinian official said on Tuesday.  
"There is intermittent fighting between Palestinian factions and IS and Al-Nusra Front which are trying to retake positions in the center of Yarmouk," Khaled Abdel Majid, head of the Palestinian Popular Struggle Front which is close to Syria's regime, told AFP.
When jihadists from the two groups entered Yarmouk on April 1, they took 60 percent of the camp before pulling back into around 40 percent.
They currently have a presence in the south near the Damascus district of Al-Hajar al-Aswad.
Abdel Majid said Palestinian groups control 40 percent of the camp, in its north, and that some 20 percent makes up the front line.
He said Syrian regime aircraft have bombarded Al-Hajar al-Aswad, which is jihadist-held.
A security source in Damascus said only that in Yarmouk the fighting "stops and then starts again".
Chris Gunness, the spokesman for UNRWA, the United Nations refugee agency for Palestinians, expressed alarm at the reports of fighting.
"UNRWA calls for an end to all actions and hostilities that endanger the security and lives of Palestinian and Syrian civilians in Yarmouk, who endure - and continue to suffer - extreme humanitarian conditions," he said.  
Before the Syria conflict erupted in 2011, Yarmouk was home to 160,000 people, both Palestinian and Syrian.
UNRWA says that just 18,000 still live there.
"There must be active compliance with the obligation to respect and protect civilians in Yarmouk, including by allowing unhindered humanitarian access," Gunness said.