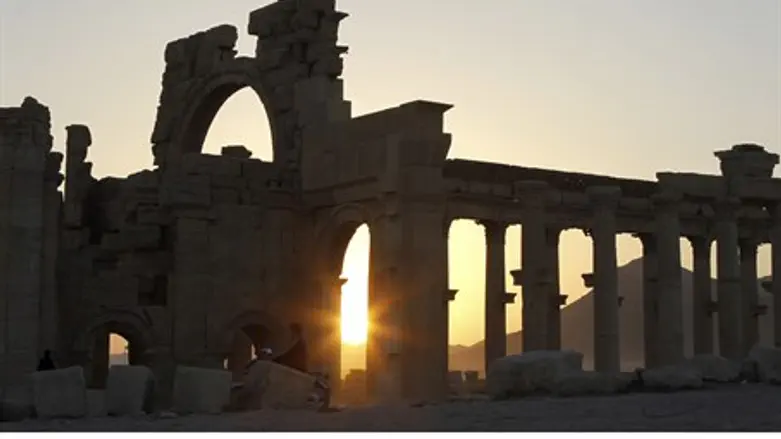 Ancient ruins in Palmyra
Reuters
Syrian regime aircraft launched at least 15 airstrikes in and around the ancient city of Palymra (Tadmor) on Monday, following its fall to the Islamic State (ISIS) group, a monitoring group said.
The Syrian Observatory for Human Rights said the raids on the city were the most intense since the jihadists overran it last Thursday, and indicating that heavy bombing was targeting ISIS captured sites, reports AFP.
"Since this morning, government aircraft have carried out at least 15 air strikes in Palmyra and the areas around it," Observatory director Rami Abdel Rahman said.
He said there were reports of casualties but he had no firm toll.
The strikes targeted several areas of the city, including some close to the city's famed Greco-Roman ruins, a UNESCO world heritage site, he said.
The Observatory said on Sunday that it had documented the executions of at least 217 people, among them 67 civilians, including 14 children. Some of those killed had been beheaded, Abdel Rahman said, adding that the jihadists had also taken some 600 people prisoner.
Syrian state TV on Sunday reported that about 400 civilians were massacred by ISIS since last Wednesday, while activists in Palmyra said that ISIS fighters hunted down President Bashar al-Assad's troops and loyalists, killing up to 300 of them.
The pro-government Al-Watan said Monday that the number of executions had risen to 450.
The capture of Palmyra has raised fears that ISIS might try to destroy the well-preserved, 2,000-year-old Roman-era city on the town's edge – as they have destroyed other archaeological treasures in Syria and Iraq.
With the Syrian army retreat from Palmyra, there has been talk of the Assad's regime being forced to accept the de facto division of Syria.
Reportedly 10-15% of Syria's population is now in areas controlled by ISIS - which geographically controls around half of the country's landmass, much of which is sparsely populated - while 20-25% are in territory controlled by Al Qaeda-affiliated Nusra Front or other rebel groups, and another 5-10% are in areas controlled by Kurdish forces.