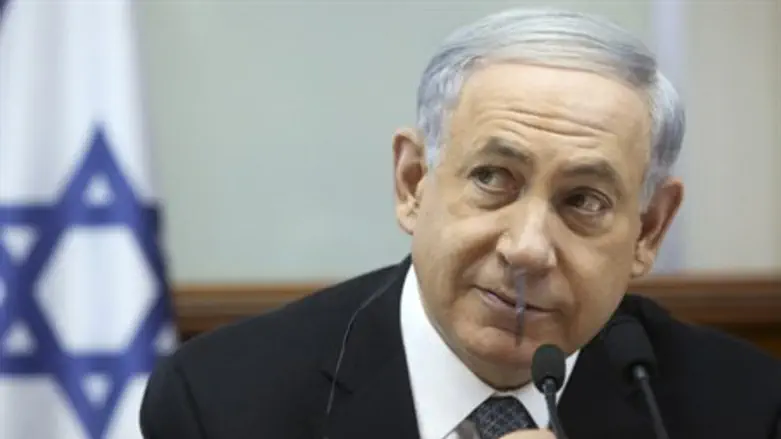 Prime Minister Binyamin Netanyahu
Marc Israel Sellem/Flash90
What exactly is the Israeli government's official position regarding the "two state solution," which posits creating a state for the Palestinian Authority (PA) in the Biblical heartland of Judea and Samaria?
Answers to the question have been murky at best, with numerous statements by Prime Minister Binyamin Netanyahu giving conflicting sentiments on the issue. In his infamous 2009 Bar Ilan speech he committed to the two state solution.
And this Wednesday in a meeting with the EU's foreign policy chief Federica Moghreini, Netanyahu said, "I don't support a one state solution – I don't believe that's a solution at all. I support the vision of two states for two peoples – a demilitarized Palestinian state that recognizes the Jewish state."
But just before elections on March 16, Netanyahu said, "I think that anyone who is going to establish a Palestinian state and open up territory is giving radical Islam a space to attack the State of Israel. The Left...buries its head in the sand time and time again. We are realistic."
And yet Netanyahu quickly flip-flopped after elections, saying "I don't want a one-state solution. I want a sustainable, peaceful two-state solution. I haven't changed my policy."
Which is it?
In order to try and make sense of the official policy given the apparently contradictory statements, Arutz Sheva on Thursday morning contacted the Prime Minister's Office (PMO) to try and probe the official policy.
In the query, the PMO was asked if a change has occurred in the Israeli position regarding the two state solution; what the official Israeli policy is on the issue given Netanyahu's comments in March; and whether Netanyahu will attempt to restart peace talks with the PA despite its unilateral moves to sue Israel at the International Criminal Court (ICC).
Despite repeated attempts, PMO has yet to respond to Arutz Sheva's requests to receive an answer to the questions. The inability to provide an answer is all the more surprising given the fact that one would expect official policy to be clear on such a central issue guiding national policy.
Several Likud ministers and deputy ministers considered to be knowledgeable of Netanyahu's policy similarly refused to answer Arutz Sheva's queries on the subject.
However, the Likud spokesperson department was alone in quickly responding to the questions on Thursday, stating "Prime Minister and Likud chairperson Binyamin Netanyahu did not change his policy on the issue. What he said to the (European) Union commissioner expresses his consistent policy on the topic."
Arutz Sheva also contacted Likud's coalition partner Jewish Home, which claimed that it is "the only party in the Knesset which opposes the foundation of Palestine, both before and after the elections. 'The land of Israel belongs to the nation of Israel' isn't a slogan, it's our faith and we'll struggle for it."