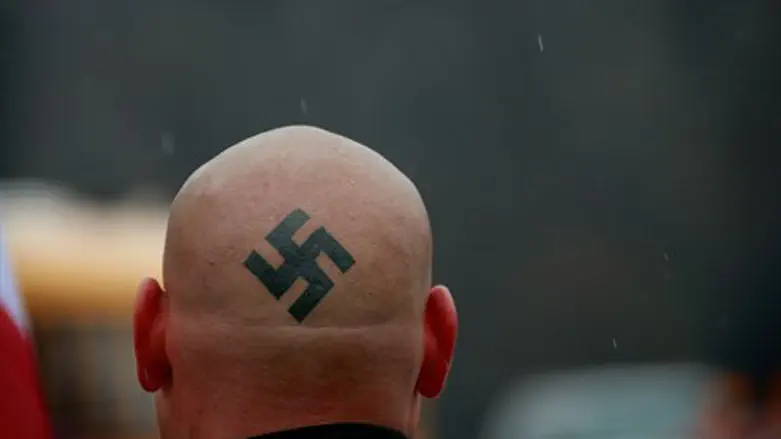 Neo-Nazi (file)
Thinkstock
Jewish residents of the London neighborhood of Golders Green are bracing themselves for a potentially sizable neo-Nazi rally organized by a coalition of far-right fascist groups.
The rally's organizers say they are targeting "Jewish privilege" through their protest, to be held on July 4 - the first Shabbat of the month - in what is the heart of northwest London's Jewish community.
It follows a largely unsuccessful demonstration by anti-Semites in Stamford Hill, northeast London, which is home to the largest Orthodox Jewish community in Europe.
But unlike the previous demonstration - which featured less than 30, largely middle-aged neo-Nazis, who were kept away from Jewish areas by a police cordon - there are genuine concerns that July's rally could be more successful, given the momentum the campaign has gained among the far-right on social media.
British Jewish community leaders have approached Home Secretary Theresa May with a request to ban the event.
Without her intervention, police told Jewish News "that they are powerless, legally, to stop a static demonstration," which it is believed will be held near Golders Green train station.
The Community Security Trust (CST) anti-Semitism watchdog said it was aware of plans for an "explicitly antisemitic demonstration," and warned that despite the Stamford Hill rally turning out to be "quite pathetic and largely ignored," a similar outcome "cannot be guaranteed in Golders Green."
"We sincerely hope that our Jewish community will not be cowed by this neo-Nazi intimidation," CST spokesman Mark Gardner told Jewish News.
Some community leaders are said to be concerned over the potential for violence, as many Jewish residents are already mobilizing for a counter-demonstration.
The Campaign Against Antisemitism UK group is organizing a counter-protest, and is calling on both local residents and other activists to join. 
London Jewish Forum Chairman Adrian Cohen said his organization deplored "the vicious antisemitic message of the proposed neo-Nazi rally. We, along with other major Jewish organisations, have asked the Home Secretary to ban the rally.
"If it goes ahead we will support those who wish to counter-demonstrate in support of the local community, and the relevant authorities in ensuring that peace and security is maintained in the area."
Anti-fascist campaign group Hope Not Hate also condemned the planned rally and called on Jewish community members "to be both prepared and informed," according to Jewish News.
Chief Superintendent Adrian Usher - who is in charge of policing in the London Borough of Barnet, which includes Golders Green - sought to calm fears, emphasizing that "Officers from Barnet will continue to work closely with the local community to make sure we fully understand their concerns and to brief them on the policing operation as it develops."
He added that police are in touch with the rally's organizers "to understand what their plans are."
Warning against violence by either side, police said that despite the likely "passionate response" to the planned anti-Semitic rally, "disorder, crime and incitement to hatred will not be tolerated… and we will take appropriate action."