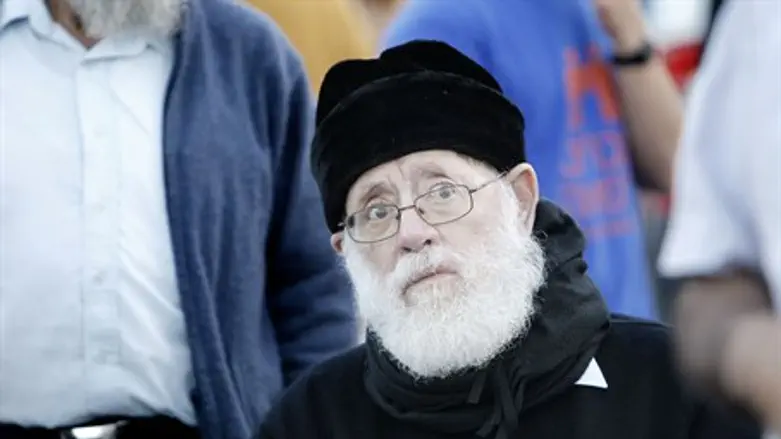 Rabbi Moshe Levinger
Miriam Alster/Flash 90
Prime Minister Binyamin Netanyahu sent a letter of condolence Sunday to the family of Rabbi Moshe Levinger, saying he was "saddened to hear of the passing" of one of Israel's leading religious-Zionist figures.
"Rabbi Levinger's name will be forever linked with the movement for renewed Jewish settlement in Hevron and other areas of the country where our patriarchs walked thousands of years ago," the letter read.
"He was an outstanding example of a generation that sought to realize the Zionist dream, in deed and in spirit, after the Six Day War."
Netanyahu praised Rabbi Levinger's commitment to the land of Israel, following in the footsteps of his teacher and religious-Zionist luminary Rabbi Tzvi Yehuda Kook.
"As a prominent student of Rabbi Tzvi Yehuda Kook at Mercaz Harav Yeshiva in Jerusalem, Rabbi Levinger was influenced by the dream according to which 'everything grows from the Land of Israel'," the prime minister wrote. "He stressed that deepening our roots in the inheritance of our forefathers would allow us to strengthen the State of Israel as a whole."
Rabbi Levinger passed away aged 80 yesterday (Saturday) on the even of Jerusalem Day, which marks the State of Israel's victory during the 1967 Six Day War which culminated in the liberation not only of Jerusalem, but of the Golan Heights, Gaza, the Sinai Desert, Samaria and Judea - where the city of Hevron is located.
Netanyahu noted the "great symbolism" of Rabbi Levinger passing on the eve of a day so intimately related to the work he had dedicated his life towards - the redemption of the land of Israel.
"Our return to the holy places of our people in the defensive war and war of deliverance 48 years ago stirred our hearts. Our eternal capital Jerusalem was a united city once again. Rachel's Tomb and the Cave of the Patriarchs, where our patriarchs and matriarchs are buried, again became centers of prayer for myriad Jews," the PM said.
"I am proud of the fact that they are included in the Government's list of national heritage sites, given their religious and educational importance of the highest order.
 There is great symbolism that Rabbi Levinger passed away on the eve of Jerusalem Day; he leaves behind him a well-established legacy and many students who are dedicated to taking root in our Land."
Netanyahu ended his letter with the traditional Hebrew words of comfort recited to mourners - itself an expression of the ancient Jewish hope of returning to and rebuilding Jerusalem: "May the Almighty comfort you among the mourners of Zion and Jerusalem and may you know sorrow no more."
Rabbi Levinger was buried in Hevron Sunday afternoon, as thousands paid their respects including the President of Israel, Reuven Rivlin, and leading religious-Zionist rabbis.