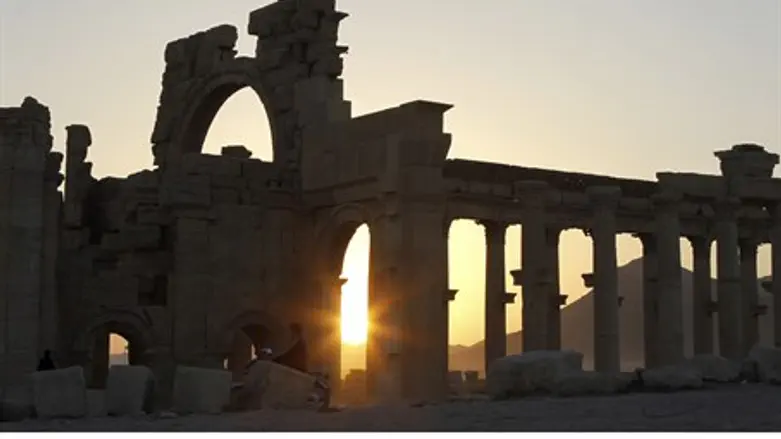 Ancient ruins under threat: Palmyra, Syria
Reuters
Syrian government troops and militia put up fierce resistance on Sunday to an Islamic State group assault on one of the jewels of the country's heritage, ancient Palmyra.  
At least 23 regime loyalists and 29 jihadists were killed as ISIS overran northern neighborhoods of the adjacent modern town of Tadmur late on Saturday, the Syrian Observatory for Human Rights said.
The Britain-based watchdog reported heavy artillery exchanges in the west of the town, close to the UNESCO-listed world heritage site.
But Syrian antiquities chief Mamoun Abdulkarim said clashes had subsided by mid-morning as troops pushed ISIS out of the northern part of Tadmur.  
"We have good news today, we feel much better," he told AFP by phone, saying he was in contact with staff in Palmyra every half an hour.  
"There was no damage to the ruins, but this does not mean we should not be afraid," Abdulkarim added.
ISIS had brought up reinforcements from its stronghold in the Euphrates Valley to the east after sustaining heavy losses in its advance on the oasis town northeast of Damascus, provincial governor Talal Barazi told AFP.  
The town's peacetime population of 70,000 has been swamped by an influx of civilians fleeing the ISIS advance.  
"We are taking all necessary precautions, and we are working on securing humanitarian aid quickly in fear of mass fleeing from the city," Barazi said.  
Abdulkarim voiced extreme concern for the ancient site and its adjacent museum, in light of the destruction wreaked by ISIS on pre-Islamic sites like Nimrud and Hatra in neighboring Iraq.  
The antiquities chief said he had been "living in a state of terror" that ISIS would destroy Palmyra's well-preserved architecture, regarded as one of the jewels of the ancient Middle East.