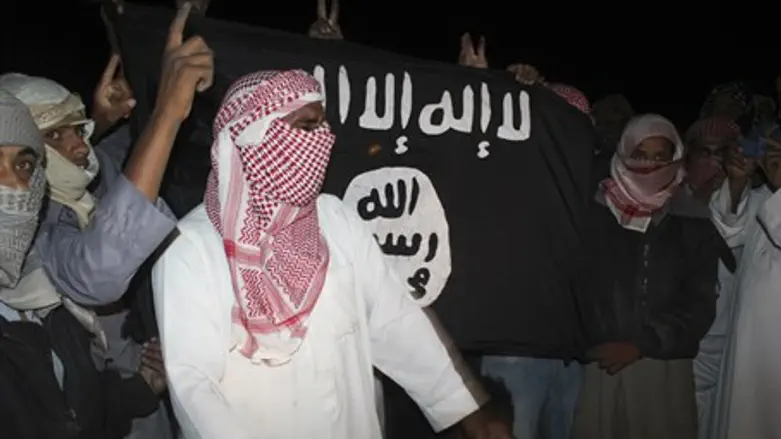 Al-Qaeda supporters in the Sinai
Reuters
Gunmen on Saturday killed two Egyptian judges and a prosecutor in the Sinai Peninsula, where security forces are battling an Islamist insurgency spearheaded by an Islamic State group affiliate, officials said, according to AFP.
The shooting in North Sinai's provincial capital El-Arish also killed the officials' driver and wounded another prosecutor, the health ministry said.
Police initially said three judges were killed in the attack, which came hours after a court in Cairo sentenced ousted president Mohammed Morsi to death for his role in a mass jailbreak during the 2011 uprising.
Some of Morsi's fellow defendants included jihadists in Sinai, where terrorists often attack members of the security forces.
Police said the officials came under attack while being driven to a court hearing in El-Arish.
Health ministry spokesman Hossam Abdel Ghaffar told AFP four people were killed.
"Two judges, a prosecutor and the driver of the car were killed, while another prosecutor was wounded," he said.
Attacks on policemen and military targets have been the norm in the Sinai for years, but have increased following the ouster of Morsi.
Most of the attacks have been claimed by Ansar Bayt Al-Maqdis, a jihadist group that is affiliated with ISIS.
Among the attacks claimed by the group since Morsi's ouster was the assassination of a top Egyptian police general, who was gunned down as he left his home in a west Cairo neighborhood, and a bus bombing on a tour bus filled with South Korean tourists in the Sinai. 
The Egyptian army imposed a curfew on Gaza on October 25, following two deadly attacks in El-Arish, which killed dozens of soldiers and which were also claimed by Ansar Bayt Al-Maqdis.