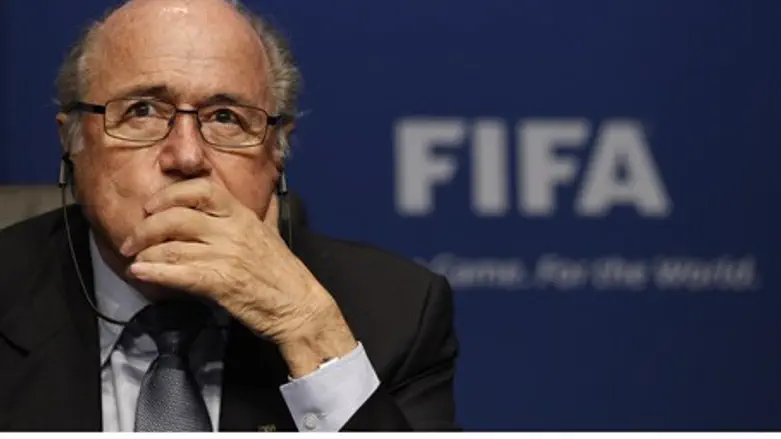 FIFA President Sepp Blatter
Reuters
FIFA president Sepp Blatter on Friday said that he hopes to head off a Palestinian Authority call for a vote to suspend Israel from football's governing body, but also urged Israel to make a concession, AFP reported.
The head of the Palestinian Football Association (PFA), Jibril Rajoub, has asked FIFA to suspend Israel from the body, claiming Israel discriminates against Palestinian Arab players and restricts their movement.
Blatter has recently spoken out against suspending the Israeli FA but the PFA was able to get the request placed on the agenda for the FIFA Congress to take place on May 29.
The FIFA head said Friday he will meet Prime Minister Binyamin Netanyahu and PA chairman Mahmoud Abbas next Wednesday and Thursday in a bid to end what he called his biggest "challenge".
He reiterated that he opposes the vote to suspend Israel, but added that "a solution is only a realistic proposition when those who are privileged are prepared to concede something and contribute to equality."
"The onus in this respect is on Israel with its outstanding infrastructure, fully functioning professional league and economic context," Blatter wrote in his weekly column for a FIFA magazine, according to AFP.
In an interview with a small group of reporters Friday, Blatter said Israel should make it easier for Palestinian and foreign footballers and sports equipment to get in and out of areas assigned to the PA.
He added that Netanyahu "would not receive the FIFA delegation if he is not ready to make some concessions, I am sure."
"He knows the situation," added Blatter who has been trying to end the dispute for two years.
Blatter said he would meet Netanyahu in Jerusalem on Wednesday and Abbas in Ramallah the next day.
He added he hoped that after his talks with the Israeli and Palestinian leaders the federation hold new talks to find a solution before the May 29 deadline.
"This is my challenge number one for my remaining time to the election. But it is a very delicate problem," said Blatter, who will seek a fifth term in a FIFA election also on May 29.
He added that the case was making headlines "from South America to Asia", noting, "There is so much pressure by social media towards FIFA to kick out Israel on one side and on the other side keep Israel in."
The Palestinian Football Association has tried in the past to have Israel expelled from international tournaments for restricting Arab teams from entering PA-controlled territories. In response, Blatter had threatened to suspend Israel, which later said it would allow the players free movement.
(Arutz Sheva's North American desk is keeping you updated until the start of Shabbat in New York. The time posted automatically on all Arutz Sheva articles, however, is Israeli time.)