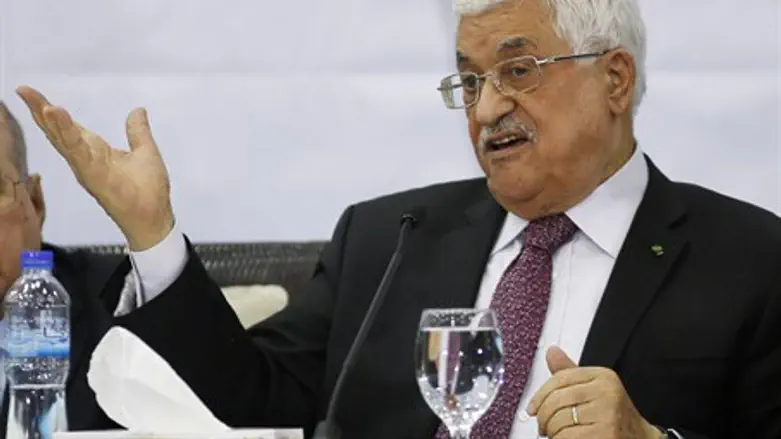 Mahmoud Abbas
Reuters
Hours after a new Israeli government was sworn in, and amid international pressure to resume peace talks, Palestinian Authority (PA) chairman Mahmoud Abbas on Friday announced a new set of preconditions for the resumption of talks.
"A return to the negotiating table requires three basic principles," Abbas said, according to a Channel 2 News report. "A halt to settlement activities, a release of prisoners - and in particular the fourth batch of the prisoners who were sentenced before the Oslo Accords."
The third precondition, the report continued, is that the talks must not continue for more than a year.
"The negotiations must continue for one year, and the result will be an end to the occupation by a period not to exceed the end of 2017," demanded Abbas.
This is certainly not the first time that the PA chief has imposed preconditions on talks with Israel, which has more than once agreed to Abbas's preconditions only to have him pull out of talks or toughen his position altogether afterwards.
The fourth batch of terrorists were to be released during the previous round of talks last year, but Israel cancelled this "gesture" after the PA requested to join 15 international agencies in breach of the conditions of the peace talks.
Israel subsequently pulled out of the talks altogether, after the PA signed a unity pact with Hamas.
Abbas has previously conditioned a return to talks on Israel releasing the fourth batch of terrorist prisoners and freezing construction in Judea and Samaria for three months.
The international community, meanwhile, has been pressuring the sides to resume talks ever since the March elections in Israel.
Earlier on Friday, the European Union's (EU) foreign policy chief Federica Mogherini announced she will visit the Middle East next week for talks on the peace process with both Abbas and Israeli Prime Minister Binyamin Netanyahu.
(Arutz Sheva's North American desk is keeping you updated until the start of Shabbat in New York. The time posted automatically on all Arutz Sheva articles, however, is Israeli time.)