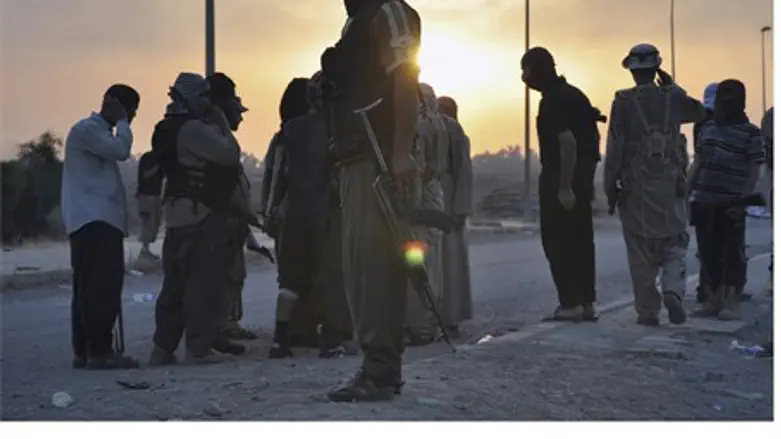 ISIS controls several border crossings with Turkey
Reuters
Turkey on Tuesday called for determined action from NATO member states against the "significant" threat posed by Islamic State jihadists who have taken swathes of Iraq and Syria up to its borders.
Foreign Minister Mevlut Cavusoglu said in Antalya that the threat from ISIS to the south of the NATO alliance's borders would be a key issue when its top diplomats hold a two-day meeting from Wednesday in the southern resort city, according to AFP.
He praised a plan - still yet to be realized - for moderate Syrian opposition to be trained and equipped on Turkish territory in cooperation with the United States but said more was needed.
"This will be effective but this will not be enough on its own and we have to take further steps," he told a news conference ahead of the meeting, adding that measures like air strikes were also not sufficient alone.  
"In order to eradicate terrorism we need to deal with the grassroots of terrorism," he added, without elaborating further on the nature of the steps required.
Turkey has in the past called for the creation of a security zone inside Syria to protect its borders. But the idea has received just lukewarm support from its Western allies.
Turkey, the sole Muslim majority member of NATO, has been criticised for itself not taking harder steps against ISIS, with some commentators even questioning its future in the alliance.
President Recep Tayyip Erdogan has always insisted the exit of President Bashar al-Assad is the key to peace in Syria.
But Cavusoglu insisted that Ankara was deeply troubled by ISIS, noting that the jihadists controlled border posts on Syria on the Turkish frontier.
"Turkey is the only member of the alliance to have borders with Daish," he said, using an Arabic origin and pejorative term for the group.
"Daish on our borders is not a sustainable situation. It poses a significant threat to us.  
"It (the group) is a neighbor to Turkey," he added.
Cavusoglu pointed to foreign fighters from "90 different countries" who have tried to come to Turkey in transit on their way to join ISIS in Syria.
"Once they enter our country, it becomes very difficult to control our borders. We have to rid the region of terrorism. For this we need determined policies."
He batted off criticism that Turkey was not doing enough to halt the flow of foreign militants, saying that 1,300 had already been deported from the country during the Syria conflict.