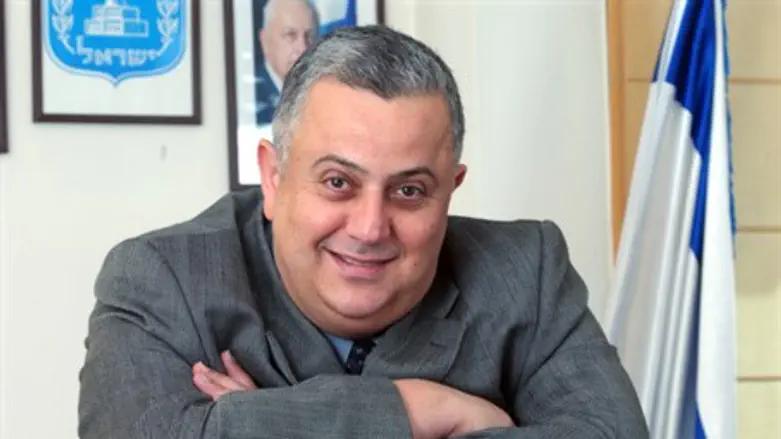 Yosef Paritzky
Flash 90
Former minister Yosef Paritzky continued on Sunday to fling out sexist remarks against incoming Justice Minister and Jewish Home MK, Ayelet Shaked. 
"I am a lawyer and need to congratulate the incoming Justice Minister by saying something good," Paritzky sarcastically explained during an interview on Channel 10 morning program "Orly and Guy."
"So I thought to congratulate her as a champion of human rights, or perhaps in continuing the glorious heritage of previous justice ministers...but she doesn't...so the only good thing I could think of is what I said."
Last Thursday, Paritzky wrote on his Facebook page, after news of Shaked's appointment was confirmed, that "this is the first time in Israel the justice minister can star on the calendars that hang in garages."
His statements created an angry stir, with even Meretz MK Michal Rozin rushing to defend Shaked against "chauvinistic comments."
The day after posting the repugnant status, Paritzky was interviewed on Radio Darom. Instead of apologizing, the former minister exclaimed that "one has to say a kind word about Shaked, and that is the only kind word I found."
Paritzky then added that Shaked "appears day and night on all sorts of magazines, in various fashion shows. I mean, this is not a person who avoids presenting herself before the camera." 
"It's not like I took someone who had never struck a model's pose to exhibit her beauty, and she is very beautiful – like many of the Reich's women. Oops, sorry, one must not compare."
"The woman is advertising herself on every occasion," Paritzsky said, continuing his assault. "I despise the new justice minister, and not women in general...I will not take my statements back. That's the truth. Defend the truth."