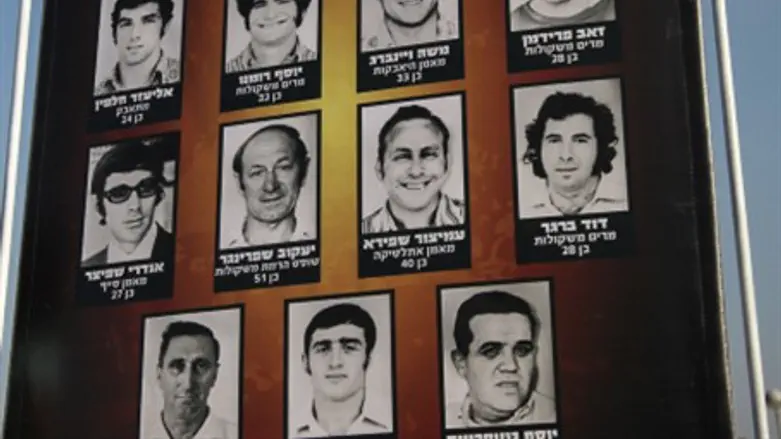 The Munich 11 (file)
Avishag Shaar Yashuv/Flash90
Production has begun on The Foundation for Global Sports Development's (GSD) first documentary film, documenting the 1972 terrorist attack on Israeli athletes at the Munich Olympics, The Associated Press (AP) reported Wednesday.
The documentary, tentatively titled "Munich 1972 & Beyond", is scheduled for release later this fall, the report said.
Unlike existing accounts of the attack, the new documentary will capture the contemporary story of a unique memorial under construction in Munich, conceived to recognize the courage of the fallen athletes and their families and convey the possibility of reconciliation for all involved.
Producers from GSD, recognized sports psychologist Dr. Steven Ungerleider and GSD President David Ulich, will travel to Israel this week where early production is taking place, according to AP. Family members of the victims, former Olympians, and Israeli and German statesmen will be interviewed.
11 Israeli athletes were murdered by terrorists from the "Black September" organization during the 1972 Olympics.
In 2012, on the 40th anniversary of the massacre, the widows of the two of the Israeli athletes held a long battle to get the International Olympic Committee (IOC) to observe a moment of silence for the 11 at the opening ceremony of London Olympics.
However, the head of the IOC at the time rejected the idea, saying the opening ceremony is "not fit" to remember the Munich Massacre.
Ungerleider and Ulich shaped the idea for the film while participating in the memorial's architectural competitions in Munich, Germany last fall, according to the AP report.
The new memorial was initiated by the German States Ministry for Education, Science and Culture, and is supported by The Foundation for Global Sports Development and the IOC. The film will investigate the history behind the memorial's origin, controversy generated from its delay, and the hope forged by its creation.
"Forty-three years have passed since an eager world audience tuned into the first international broadcast of the Olympic Games — only to watch in horror as the appalling acts of terror unfolded " Ungerleider was quoted as having said.
"The memorial will at last honor the heroism and sacrifice of the Israeli athletes and acknowledge the profound loss felt by their teammates and families," he continued.
"The film will document the historic events of the past and present, " added Ulich. "We hope that by sharing this journey, audiences can discover that tragedies of the past can be healed by remembering."