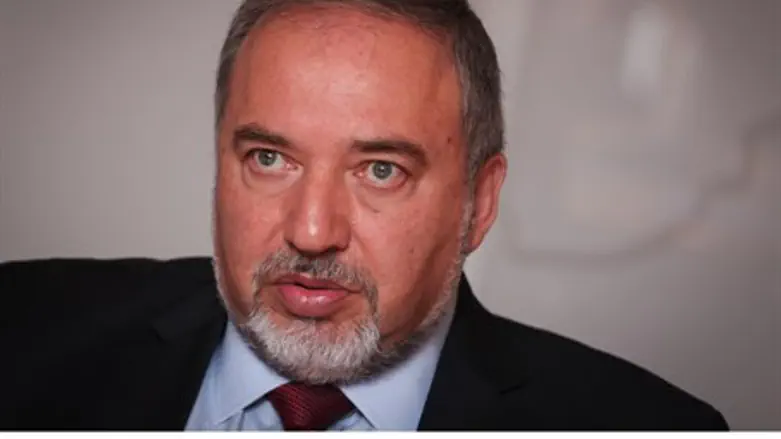 Avigdor Liberman
Hadas Parush/Flash90
Foreign Minister and Yisrael Beytenu chairman Avigdor Liberman has refused to join Prime Minister Binyamin Netanyahu's coalition, he announced on Monday afternoon, with just 48 hours until the coalition deadline. 
Liberman added that he would be resigning as Foreign Minister, despite reports that his joining the coalition would be conditional on him retaining his post - and despite reports that Netanyahu acquiesced to this demand. 
"The dilemma was one of principles and seats," Liberman stated at a Knesset press conference. "We have given up on seats and went on principles." 
Yisrael Beytenu lost 7 seats in the 2015 elections, from 13 to 6, with the party dogged by a party-wide corruption scandal and struggling to find an effective message during the campaign.
But Liberman insisted his party had done well in coalition negotiations with Netanyahu and secured its key demands.
"We had no problem with the roles we were given - at least not the ministerial positions, the Foreign Ministry and the Absorption Ministry," he added. "The decision we made is that it is not right for us to join the current coalition, which will not see a nationalist government - but a government that smacks of opportunism and conformism."  
"We shall serve the people from the opposition, we will be very active there. There is no shame in that [...] sometimes it can even be beneficial." 
ליברמן הודיע: נשב באופוזיציה
Liberman cited, among other reasons, Clause 5 of the coalition agreement Likud presented, which allows for the possibility to widen the coalition beyond 70 seats - a clear indication, he said, of Netanyahu's intent in the future to replace Yisrael Beytenu and Jewish Home in the event the left-wing "Zionist Union" agrees to join the coalition.
Likud's refusal to include a clause vowing to rid Hamas's control in Gaza as a coalition condition was also key to Yisrael Beytenu's decision, as was the lack of a straightforward declaration to build in Judea and Samaria - specifically Ramot, Gilo, and Ma'ale Adumim. 
"I am telling you: there is no intention to build - not in Judea and Samaria, and not in the Jewish neighborhoods in Jerusalem."
"I don't intend to build in Jabel Mukaber," he quipped, "but I don't understand why until today we aren't building in Ramot, in Gilo, in Maalei Adumim or in Ariel."
Another key reason given by Liberman for rejecting the coalition was the fact that the Jewish State Law - which was the catalyst for Netanyahu's call for snap elections in the first place - does not appear to be high on the agenda for the incoming government.
Netanyahu is now expected to form a coalition with just 61 MKs - potentially establishing a highly unstable government. 
As of Monday afternoon, he has so far signed coalition agreements with United Torah Judaism and Kulanu, and is expected to sign agreements with Jewish Home and Shas before Wednesday.