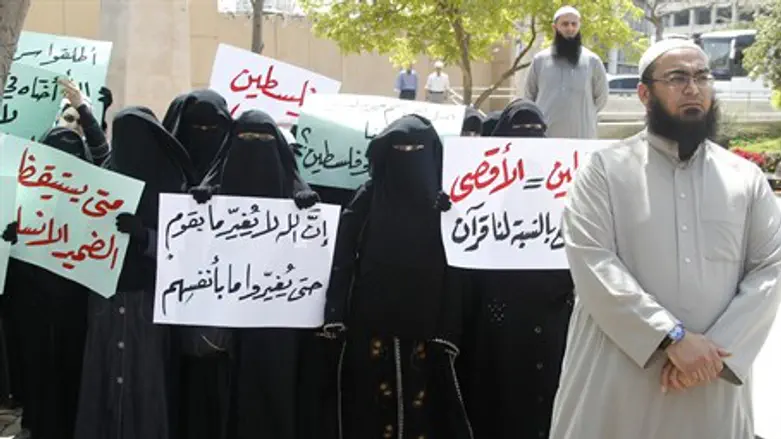 Salafist demonstration (illustration)
Reuters
Hamas has been accused of torturing members of a Salafist group in Gaza who are being held in jail, while monitoring and cracking down on other supporters of the group throughout its stronghold.
A statement by the Salafist Trend group on Saturday threatened Hamas that if it didn't release the members being tortured in prison, it would suffer the consequences, reports the Palestinian Arab Ma'an News Agency.
"Once again we ask the wise people of Gaza to stop the ongoing Hamas criminality and abusive detention of our brothers before it's too late," read the Salafist statement. The Salafist movement of Sunni Islam is characterized by its strict observance of Islamic Sharia law.
The accusation against Hamas and its prison system puts the group in a somewhat ironic position given how Hamas has long claimed its terrorists are "mistreated" in Israeli jails, despite the fact that despite their crimes they actually receive numerous perks and preferential treatment.
Salafist Trend said it "has details about what is going on inside the detention cells of the interior security service, including names of the criminal interrogators who torture and insult our people."
It warned that aside from the Hamas prison guards, it has the names of security officers it says are monitoring Salafist supporters and raiding their homes, threatening, "those also won't escape punishment, sooner or later."
The Salafist movement in Gaza has reportedly received the support of the Fatah faction which leads the Palestinian Authority (PA), and which views it as a potential counter-force to Hamas in Gaza.
In this way the position of the Salafists gives expression to the massive rivalry between Fatah and Hamas, which despite a unity agreement last April has only escalated in enmity recently.
Hamas violently seized power and ousted Fatah from Gaza in 2007 after overwhelmingly winning in elections.