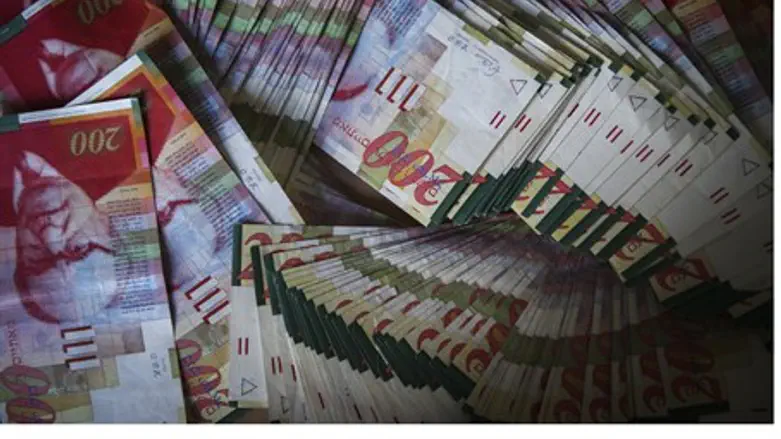 (Illustration)
Nati Shohat/Flash 90
It's hard to know which party's behavior was more remarkable – the "polite" bank robber who explained to bank tellers that, although he was robbing their bank, he had no gun, no knife, and planned no attack, or the tellers who willingly handed over thousands of shekels.
That question is likely to be answered in the trial of Michael Hadar, 37, of Kiryat Gat, who was indicted Sunday for robbing at least eight banks in the last five months in Tel Aviv, Bat Yam, Givatayim, and Ramat Gan, and may well turn out to be the nicest bank robber in history – if he even qualifies as a robber.
In each case, his "modus operandi" was the same: He would walk into the bank and choose a likely looking teller. He would instruct her (it was usually a woman he chose) to gather up some cash and place it into the bag he very politely slid over the counter, as he told her that he had no plans – or means, for that matter – of hurting her or anyone else. There was no running or exciting chase scenes; when his business was done, Hadar walked quietly out of the bank.
According to a police report, Hadar "asks them to help and generally apologizes for what he is doing. He explains to his victims that he has fallen on hard times financially."
It was only then that tellers would inform managers that they were "robbed." Police were able to zero in on Hadar only after reviewing video of the banks he hit; from the video, it appeared that there was no difference between Hadar and other bank customers.
Altogether, he managed to get away with NIS 114,630 (about $28,000) using what the indictment called "a very effective method that has proven itself."