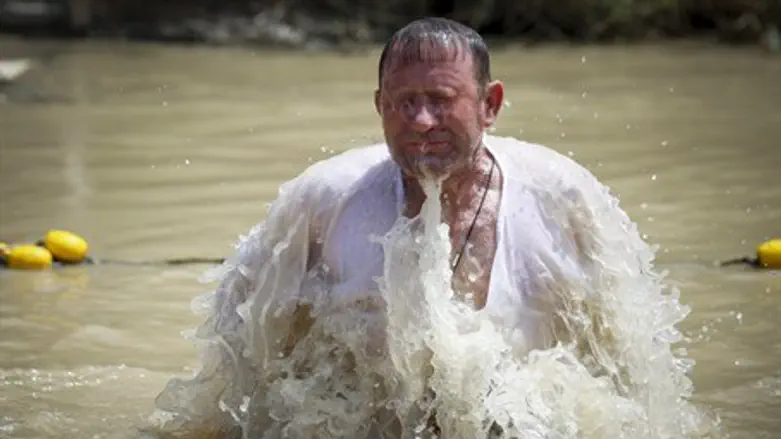 Christian baptism at the Jordan River
Maxim Dinshtein/Flash 90
About 5,000 people participated in a prayer-rally-cum-protest on Saturday morning in Raanana, in response to a Jehovah's Witnesses baptism ceremony held at the same time at the MetroWest Sports Center in the city, anti-missionary organization Yad L'Achim said Sunday. 
The demonstrators prayed the morning service (Shacharit) and brought a Torah scroll to the rally for that purpose. Many of the participants said special prayers distributed by Yad L'Achim. 
Hundreds of secular Israelis joined the religiously observant participants, and expressed solidarity with the cause, the organization added. 
"This rally actualizes a giant and firm statement to disable the hostile power," Rabbi Yitzhak Haim Peretz said during the event. "Our strength is in our unity." 
A legal battle has ensued over the baptism ceremony, which was held after the Lod District Court overruled a ban on the event last Wednesday. 
Originally scheduled to be held in Holon, just south of Tel Aviv, in February, the baptism was canceled after Yad L'Achim protested. 
Proselytizing to minors is illegal in Israel, and large-scale missionary events aimed for adults are often met with outrage by the general public.