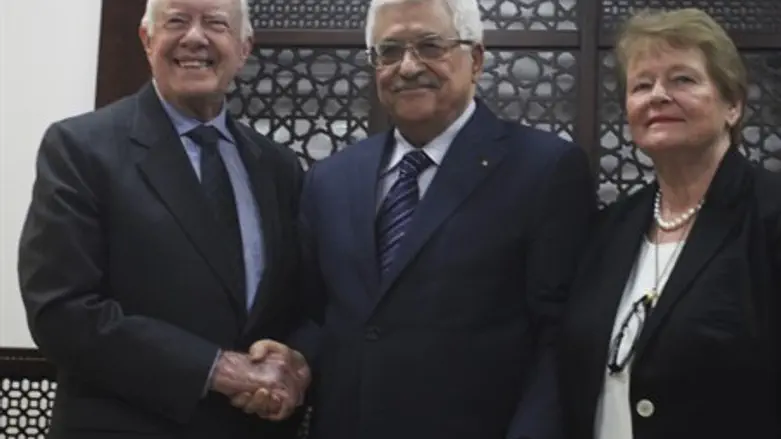 Jimmy Carter, Mahmoud Abbas, Gro Harlem Brundtland
STR/Flash 90
Former US president Jimmy Carter on Saturday urged Palestinian Arabs to hold elections to end the rapidly growing fierce enmity between Hamas in Gaza and the Fatah-led Palestinian Authority (PA) in Judea and Samaria.
He was speaking at a joint news conference with PA president Mahmoud Abbas in the PA's governmental seat of Ramallah in Samaria, after cancelling his stop in Gaza where he was supposed to meet top Hamas terrorists such as Ismail Haniyeh.
"We hope that sometime we'll see elections all over the Palestinian area and east Jerusalem and Gaza and also in the West Bank," said Carter, a member of the independent Elders Group of global leaders.
His reference to eastern Jerusalem comes despite the fact the area is part of Israel, having been annexed after the Jewish state liberated the eastern part of the ancient Jewish capital during the 1967 Six Day War.
No Palestinian Legislative Council (PLC) elections have been held in over a decade, even though Abbas's term in office expired in January 2009.
In 2006, a year after Abbas was elected, Hamas overwhelmingly won the most recent PLC elections. A year afterwards, Hamas violently ousted Abbas's Fatah faction from Gaza and seized control.
Despite the rivals signing a reconciliation agreement a year ago, Hamas is reluctant to hand over power in Gaza to an independent PA unity government the two formed.
As noted Carter had also planned to go to Gaza, but the visit was cancelled at the last moment.
He said it would be "very important" for "full implementation of the agreement reached between Hamas and Fatah."
Carter was accompanied by Norway's former prime minister Gro Harlem Brundtland.
She said that despite not being able to visit the Hamas terrorist stronghold of Gaza, "we have had a chance to discuss with people who know the issues in Gaza."
The Elders Group said ahead of the trip by Carter and Brundtland that they were visiting "in a renewed push to promote the two-state solution and to address the root causes of the conflict."
Ahead of Carter's three-day visit, both Prime Minister Binyamin Netanyahu and President Reuven Rivlin said they will refuse to meet him due to his blatant anti-Israel and pro-Hamas stance.
During Operation Protective Edge last summer, a counter-terror operation undertaken after Hamas launched a terror war with thousands of rockets fired at Israeli civilian centers and attacks via terror tunnels, Carter urged the US to remove Hamas from its terror list.
He said at the time there is "no justification in the world for what Israel is doing," castigating the IDF for its defensive efforts while not offering any condemnation of Hamas's countless terrorist attacks on civilian populations launched from civilian centers.
Hamas is currently rebuilding its capabilities to attack Israel, digging attack tunnels around the clock and developing new rockets, even as Israel ships in massive amounts of building materials being used to reconstruct the tunnels.