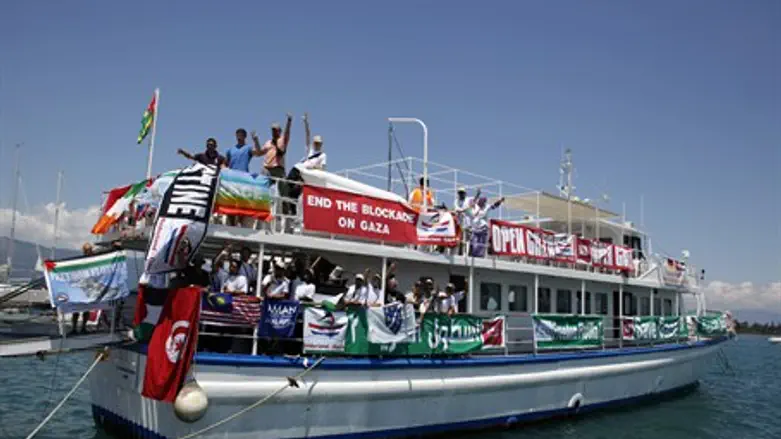 Ship which is part of the "Freedom Flotilla"
Reuters
Anti-Israel groups are preparing once again this year to "break the naval blockade of Israel on Gaza," i.e. the transport and import restrictions Israel imposes to prevent terrorists from transferring weapons and ammunition to Islamist terrorists in the region. 
The coordinator for the International Committee to Lift the Siege on Gaza, Zahar Birawi, told Hamas's Palestine newspaper on Thursday that there will be at least three flotillas during the summer months, a la the Mavi Marmara "Freedom Flotilla" fiasco in 2010.
Meetings will be held in Greece on June 16 and 17 to work out the logistics, but the exact dates of departure will not be publicly announced to prevent Israel from taking preventative measures. 
One of the boats will include former Tunisian PresidentMuncef Marzouki, he added. 
In the 2010 flotilla, the Mavi Marmara, which claimed to be providing "humanitarian aid for the people of Gaza," defied orders to turn around and dock at the Ashdod port. After it ignored repeated warnings to change course, the IDF boarded the vessel - only to be attacked by Islamist extremists on board wielding knives and metal bars.
The wounded soldiers had no choice but to open fire, resulting in the deaths of ten of the IHH members on board.
After an investigation, Israeli authorities discovered the vessel to be carrying no humanitarian aid - in fact, no aid supplies at all.