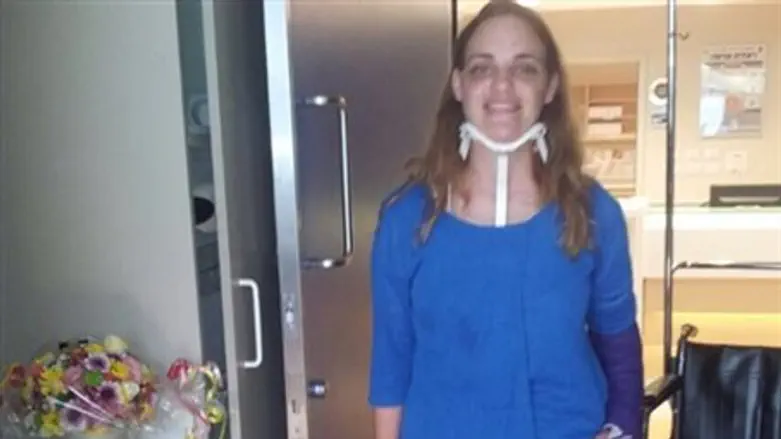 Shira Klein
Hadassah Ein Karrem
Shira Klein, who was seriously injured in the car terror attack in Jerusalem two weeks ago on the eve of Holocaust Remembrance Day, was released from Hadassah Medical Center on Thursday morning. 
Klein, 24, who was treated in the Orthopedics ward at Hadassah, will be rehabilitated at Tel Hashomer Hospital. 
She was deliberately run over by 37-year-old Khaled Kutina, a resident of Jerusalem's Anata neighborhood, while out on a date with Shalom Yohai Sherki, who was killed in the attack.
"The Shira that came to Hadassah Medical Center two weeks ago was in a very bad state," the hospital said in an announcement on Wednesday night. "She is being released much healthier and stable." 
Smiling and standing on her feet before leaving Hadassah on Thursday morning, Klein thanked the hospital staff for their diligent care during her two-week stay. 
"I am very grateful for all those who treated me at the hospital and all those who prayed for my health. I want to go back to school," said Klein, who is currently completing her master's degree in psychology. "But I'll wait a few weeks to get better." 
Klein's mother, Ada, was also thankful upon her daughter's release from Hadassah Medical Center. "Thank G-d, Shira feels much better and we hope she will continue to improve."
"Shira knows all the details of the attack through what we've told her. She saw the clip showing the moments of the attack," she added.
Klein and Sherki were the victims of Palestinian Arab driver Khaled Kutina, who deliberately rammed his car into a bus stop in the French Hill neighborhood.
On Monday, the Jerusalem District Attorney's Office filed an indictment against Kutina.