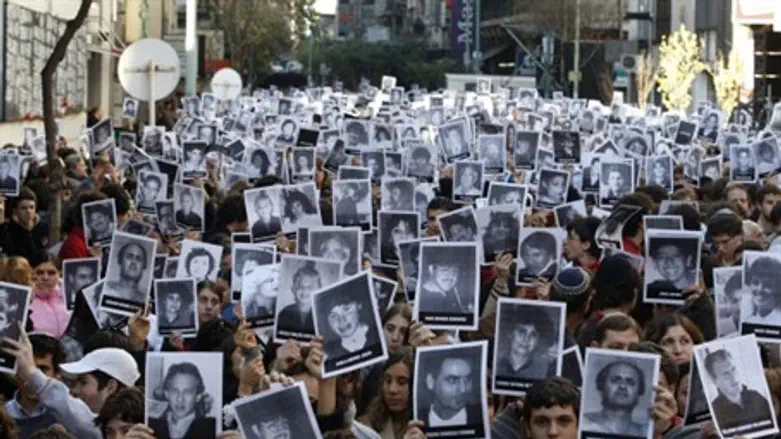 Protest by relatives of AMIA victims
Reuters
Argentine politicians passed a law on Wednesday aimed at providing financial compensation to the victims of the 1994 bombing of a Buenos Aires Jewish center, AFP reported. 
The bombing at the Argentine Jewish Mutual Association (AMIA) killed 85 people and wounded 300, in the deadliest terror attack to hit the South American country.
Remo Carlotto, who heads the country's Human Rights Commission, said the compensation would be similar to that awarded to victims of Argentina's 1976-1983 military dictatorship as well as a 1992 attack on the Israeli embassy, in which 29 people died and 200 were injured.
Officials did not provide specifics but confirmed the compensation would be in the form of a one-time benefit to the heirs of the 85 people killed, as well as to those who were wounded.
The July 18, 1994 bombing, which saw a van loaded with explosives detonated in front of the Jewish center, has still not been solved.
Since 2006, Argentine courts have demanded the extradition of eight Iranians for the bombing, but Tehran denies involvement in the attack.
The case came back into the spotlight earlier this year after a prosecutor appointed to reopen the investigation died mysteriously in what is widely considered an assassination.
The prosecutor, Alberto Nisman, had accused President Cristina Kirchner of shielding high-ranking Iranian officials from being implicated in the bombing in exchange for oil and trade benefits from Tehran.