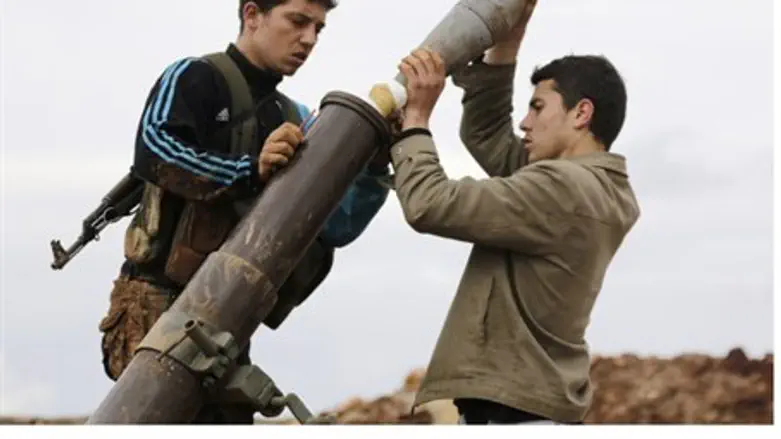 Al Nusra Front fighters have been battling ISIS in southern Syria
Reuters
The two mortar rounds fired on Israel's Golan Heights from Syria on Tuesday in estimated "spillover" were launched by the brutal Islamic State (ISIS) terrorist organization, which is the closest it's ever been to the Israeli border with Syria.
The ISIS-linked Jaish al-Jihad has captured the border town of Qahtaniya in southern Quneitra province on the Syrian Golan, thereby taking up its closest position to Israel yet at a distance of just 2.5 to 3 kilometers (1.5-1.8 miles), according to Walla!.
Qahtaniya had been in the hands of the Free Syrian Army and the Al Qaeda affiliate Nusra Front which had kept the status quo vis-a-vis Israel, concentrating their efforts against the Syrian regime of President Bashar al-Assad.
Now that the town has fallen to ISIS, it may turn into a base of attacks against the Jewish state.
On Tuesday morning Nusra Front launched an operation to try and recapture the town, with clashes between it and ISIS including machine gun fire, anti-tank missiles and mortar rounds. During the clash two mortar shells slammed into Israel near Kibbutz Ein Zivan.
The "spillover" repeated on Wednesday, as machine gun fire hit the same area near Ein Zivan.
Golan has been heating up lately, with four Arab terrorists being eliminated by the IDF on Sunday as they tried to place an explosive on the Israeli border.
The IDF has said it can't rule out that the terrorists were sent by Assad's regime; the father of two of the four was an Israeli Druze who was arrested for being in connection with Syrian intelligence spying against Israel, and who fled to Syria after being released in the 1980s.
Things don't seem prone to quiet down on the Golan any time soon either, if Iran has anything to say about it.
Syrian Defense Minister General Fahd al-Freij arrived in Iran on Tuesday for a rare two-day visit, the first since civil war broke out in Syria in 2011, and while there was reportedly told by the Iranian regime propping up Assad to attack Israel together with Iran's proxy terror group Hezbollah in Lebanon.
Al-Freij was told to spark a conflict on the Golan Heights in an Iranian effort to expand its regional hegemony and influence at all costs.