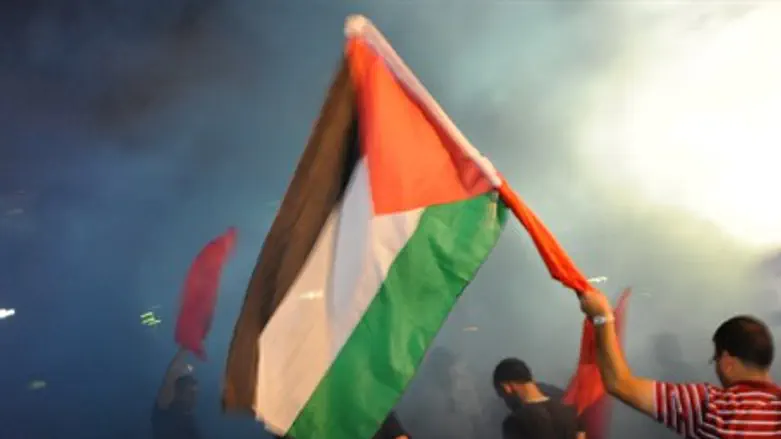 PLO flag
Flash 90
The leadership of the Arab sector in Israel called a nationwide Arab strike Wednesday to protest the enforcement of the law against structures built illegally by Israel's Arabs. The Arab leaders also announced a large scale demonstration in Tel Aviv's Rabin Square Wednesday afternoon, which will be an unprecedented show of force in the heart of the city that is Israel's second-largest, and the largest one with an overwhelming Jewish majority.
Planned slogans at the demonstration include: "No More Demolition of Arab Citizens' Homes!" and "Stop the Netanyahu Government's Racist Policy."
The strike is the first time Israel's Arab leadership has shown the temerity to hold a large-scale nationalist event in the heart of Tel Aviv. An apparent prelude to the demonstration was documented yesterday in Facebook posts that showed a group gathering at the square with PLO flags held high. At least one Jewish commenter said that the situation was "very frightening" and that the Arabs were chanting "With blood and fire we will redeem Palestine."
Isolated PLO flags have been seen in previous leftist demonstrations in Tel Aviv, including the annual memorial ceremony for slain prime minister Yitzchak Rabin, but this afternoon's demonstration is expected to set a new precedent in terms of the sheer numbers of Arabs taking part, the number of PLO flags, and most likely – the virulent nature of the speeches that will be delivered.
Adding to the event's problematic potential is the fact that the Arab sector is presently united in a single Knesset list.
The PLO flag was illegal in Israel until the 1993 Oslo Accords. While Israeli politicians like MK Yair Lapid have taken to calling the PLO a "former" terror group, the PLO Charter states that the establishment of Israel is illegal and void and calls for armed resistance until "Palestine" is "liberated." 
The flag also represents the Palestinian Authority, which regularly incites terror against Israel and pays salaries to convicted terrorists.