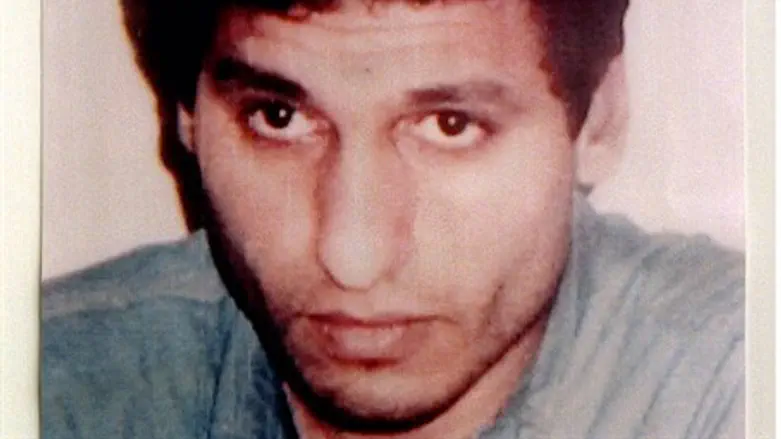 Hamas leader Mohammed Deif circa 1990s
Reuters
Israeli sources have confirmed that Hamas's military chief Mohammed Deif, who was targeted in an airstrike during Operation Protective Edge last summer that took out his wife and son, survived the assassination attempt and has returned to running operations.
The sources, who were quoted by Walla! on Wednesday, say the head of Hamas's "military wing" Al-Qassam Brigades has survived this the sixth such attempt on the life of the arch-terrorist.
Originally there were mixed reports, with Israel saying the strike had critically wounded Deif even as Hamas said he had survived the strike while refusing to provide evidence.
Deif is said to be responsible for the entire gamut of strategic decisions for the terrorist group, including its relations with Iran, which he and several other senior Hamas sources are pushing to expand so as to gain funds in light of the group's poor financial standing.
Other Hamas leaders, such as politburo chief Khaled Mashaal, who is residing in Qatar, are said to prefer growing closer to Saudi Arabia and Egypt, in what is turning into a key point of tension among Hamas's leadership.
According to a report last August as the operation in Gaza wound down, Israel delayed striking Deif three full days when it had concrete information regarding his whereabouts due to a ceasefire agreement, thereby missing the chance to take out the elusive terrorist - even though Hamas had breached numerous ceasefires during the war.
Deif had taken advantage of the ceasefire to visit his wife and children in a building in the Sheikh Radwan neighborhood in northwest Gaza, according to the report.
It noted that various sources were irate that Israel had let Deif slip out of its grasp for the sixth time, after "moral" arguments along the lines of not breaching ceasefires had scuppered such attempts in the past as well.
Amos Yadlin, formerly the head of Military Intelligence, revealed last August that in the last attempt on Deif's life in 2006, "instead of a one ton bomb, we decided to shoot two quarter ton bombs in order to avoid hitting innocent civilians. One of them didn't explode, and Deif survived."
The Walla! report on Deif's resurfacing also noted that Hamas is focusing its efforts on restocking its weapons caches and developing new rockets of both short range and 150 kilometer (over 90 miles) long range varieties.
It also noted how Hamas is intensively rebuilding its terror tunnel infrastructure, with the digging taking place six days a week with three shifts each day.
Over 1,000 diggers are being employed by Hamas to construct the tunnels according to the site, which added that the current estimation is that the tunnels lead up to Israeli territory, and Hamas will extend them beyond when it feels the time is right to strike.
The reports are made all the more troubling given that it was cleared for publication on Wednesday that Hamas had planned to use its tunnels for a massive abduction operation during last summer's war.