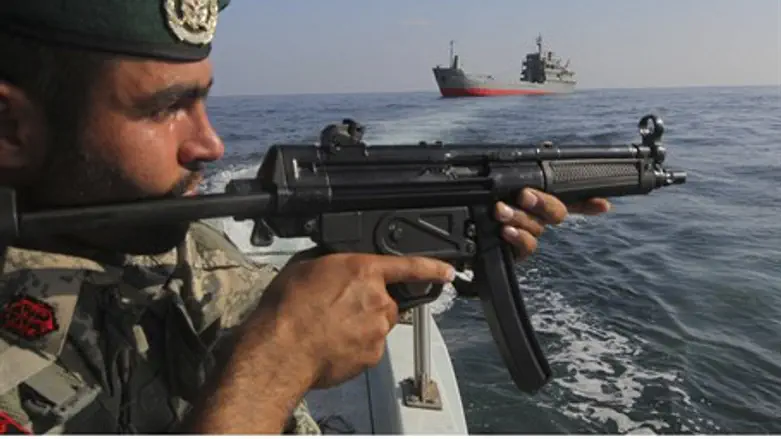 Iranian forces reportedly boarded the vessel after opening fire (file image)
Reuters
US officials have denied reports Tuesday that the Iranian navy opened fire on and captured a US cargo ship - however, the ship which was captured is apparently largely owned by American investors.
After opening fire across the ship's bow, Iranian forces reportedly boarded the vessel and "escorted it" to the port of Bandar Abbas.
Al Arabiya news agency had claimed that up to 34 American sailors were detained aboard the ship, and Iran's semi-official Fars news agency reported that the ship was detained for "trespassing on Iran's territorial waters".
However, a senior US official told Reuters news agency that no American vessel had been directed to Bandar Abbas.
Instead, a separate Pentagon official claimed that a Marshall Islands-flagged ship was boarded by the Iranian navy, and stated that no American citizens were on board. He described the shots fired at the ship as "inappropriate".
The US has defense obligations to the Marshall Islands which are currently being reviewed by the American government as it formulates its response to the situation.
The vessel, identified as the MV Maersk Tigris, had been traveling through the Straights of Hormuz when it was intercepted.
Cor Radings, a spokesperson for Rickmers Ship Management which manages the ship, told NBC that "the ship is at least partially, possibly 100%, owned by American investors."
"Since then we have lost contact with the ship but are monitoring its movements. Obviously the safety of the crew is our main priority at this time. They were only warning shots, they did not hit the ship, there was no damage nor any injuries," said Radings. 
More importantly, the MV Maersk Tigris was travelling through an international shipping lane, and not in Iranian territorial waters as Tehran claims, according to the Pentagon.
The US Air Force has scrambled aircraft to "observe the interaction" between the Maersk and Iranian forces.