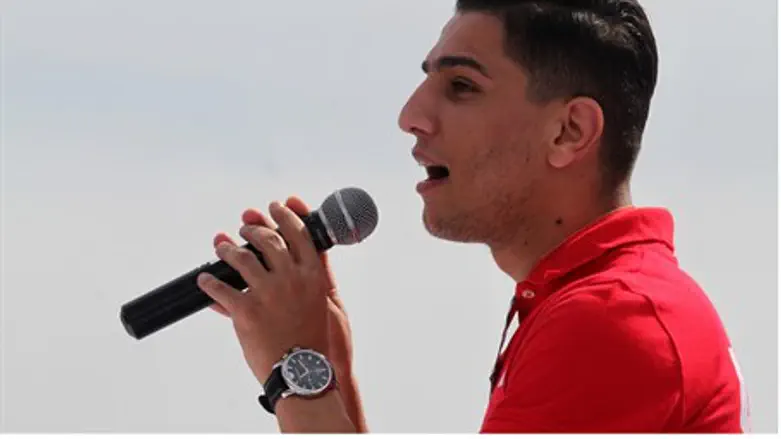 Mohammed Assaf at UN event in Gaza
Abed Rahim Khatib/Flash 90
The official Palestinian Authority (PA) TV station continues to make clear the "two state solution" has nothing to do with the PA's designs to claim all of Israel as "Palestine" - and the channel recently got musical star power on board to express that message.
Mohammed Assaf, winner of the 2013 Arab Idol song contest, was on official PA TV two weeks ago, where he reprised his winning song "Oh flying bird," as translated by Palestinian Media Watch (PMW).
The song claims numerous Israeli cities far west of the "green line," including the coastal cities of Haifa and Akko (Acre), as well as Tzfat (Safed), Tiberias, Nazareth and Beit Shean, as part of "beautiful Palestine."
"My country Palestine is beautiful. Turn to Safed, and then to Tiberias, and send regards to the sea of Acre and Haifa. Don't forget Nazareth, the Arab fortress, and tell Beit Shean about its people's return," read the lyrics of the song.
Assaf has previously sung calls to wipe out Israel, and was named as a UNRWA ambassador following his victory in the Arab Idol talent show. He reportedly dedicated the victory to the "shahids (martyrs)," terrorists who commit suicide attacks or die fighting Israel and the West.
PMW notes it has documented at least 12 different versions of the "Oh flying bird" song on official PA TV, including music videos, performances by singers and children's programs.
Among the Israeli cities falsely represented as "Palestine" in the different versions are Yafo, Ramle, Tzfat, Tiberias, Akko, Haifa, Nazareth, Beit Shean and Be'er Sheva.