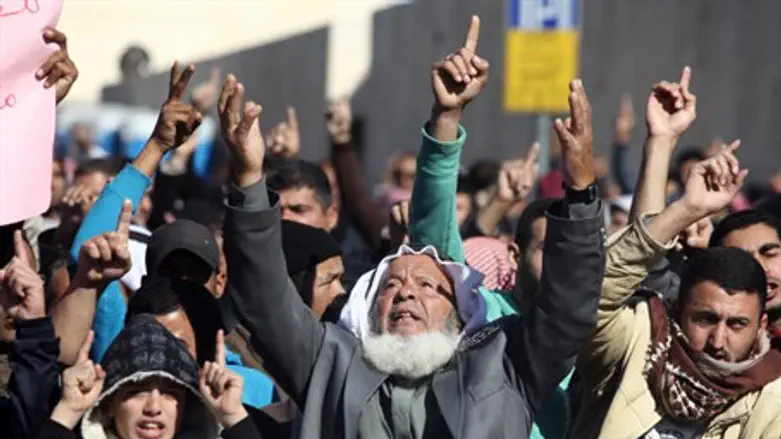 Arab protest (illustrative)
Israel news photo: Flash 90
As Israel celebrated 67 years since the establishment of the renascent modern Jewish state on Thursday, thousands of the state's Arab citizens decided to "celebrate" their state by mourning the "Nakba" - Arabic for "catastrophe" - of Israel's existence.
Thousands of Arab citizens of Israel, many of them waving the flag of the Palestine Liberation Organization (PLO) terrorist organization, gathered on Independence Day in the Galilee to protest the existence of the country they are citizens of, reports AFP.
The protest march focused on the ruins of Al-Haditha, located near Tiberias, which was an Arab village destroyed in the fighting as numerous Arab states launched a war against the fledgling state of Israel from all fronts in 1948.
While Arab residents living under the Palestinian Authority (PA) in Judea and Samaria or Hamas in Gaza mark May 15 as "Nakba day," Israeli Independence Day has become a rallying point for subversive displays among Arab citizens of the state.
Those protests against the existence of the state by Arab citizens on Independence Day is something of an annual tradition; just last year on Independence Day former MK Dr. Michael Ben-Ari filmed thousands of Arabs in the Galilee protesting the state.
The incidents come on the background of a raging debate regarding the loyalty of Arab citizens of Israel; a poll last November found a full 29% of Arab citizens "blamed" Israel for the recent wave of Arab terror attacks, indicating that roughly a third of Israeli Arabs gave tacit support for terrorism.
The antagonism to the state has often been exemplified by the representatives of Arab citizens in the Knesset, with Arab MKs including those openly voicing support for Hamas terrorists such as MK Hanin Zoabi, as well as MK Ahmed Tibi, the former aide to arch-terrorist Yasser Arafat.
The joint Arab list, which came in third in elections bagging 13 seats, is led by MK Ayman Odeh, who recently revealed his subversive past and spoke about how he used to attack police officers in every protest he took part in.