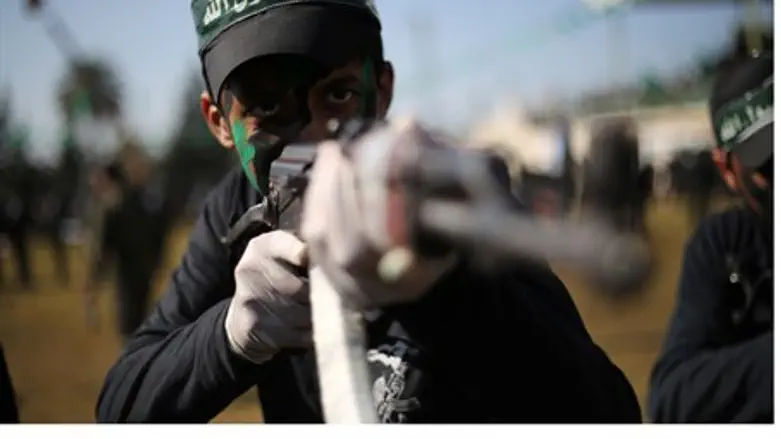 Hamas terrorist (file)
Abed Rahim Khatib/Flash 90
Hamas is definitively preparing for another war against Israel, Brig. Gen. (res.) Zvika Fogel said Friday morning - hours after a rocket fired from Gaza struck the Sha'ar HaNegev region late Thursday night.
"Rocket production continues," Fogel, a former head of the IDF's Southern Command, told Army Radio. He predicted another war by "the end of 2015 or early 2016." 
Part of the problem, he indicated, is that Hamas is purposely neglecting its Palestinian Arab population, goading them into painting Israel as an even bigger scapegoat for their poverty and poor governance. 
"The population in the Gaza Strip since the operation [Op. Protective Edge - ed.] has been neglected, and pressure on Hamas is growing," he noted. 
The IAF launched airstrikes in Gaza shortly after the attack; Israel views Hamas as responsible given that Gaza is under its de facto control, regardless of the group's claims that it did not fire the rocket and is attempting to arrest the perpetrators. 
Hamas has been actively preparing for another war with Israel, and has been conducting test launches and digging terror tunnels into the Gaza Belt region.
A recent exposé revealed that Hamas has accelerated its tunnel-building using heavy machinery in order to expedite the upcoming conflict. 
Earlier this month, a Hamas MP told a local newspaper that the group "is following developments along the (Gaza) border very closely, and it will be they who decide the zero hour for any future conflict."