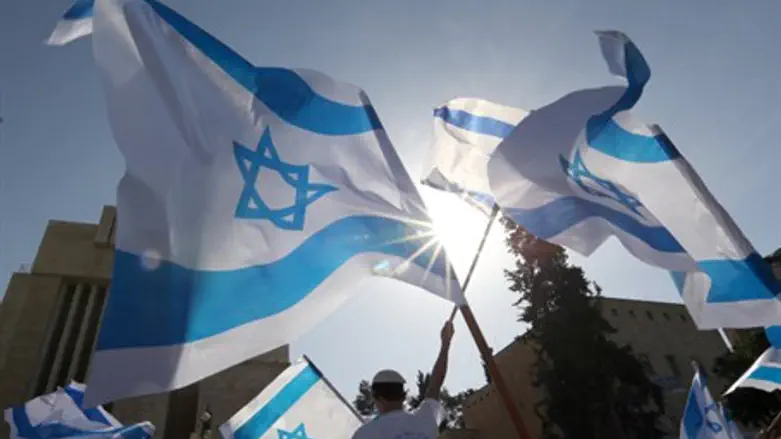 Israeli Flag
Flash 90
Israel has had a long year. From Operation Protective Edge to elections, rising housing prices, and a crisis in relations with major ally the United States, it has not always been easy going. 
Yet, despite the difficulties, a TNS survey conducted for Walla! News found that a majority of Israel's public are are satisfied with life in the Jewish state. 
45.3 percent of respondents reported being satisfied with life in Israel, with 11 percent rating themselves as very satisfied. 33 percent were mildly satisfied, with a minority of 10 percent being dissatisfied. 
The online poll, conducted last week among 500 Jewish respondents aged 18-65, also found that men are more satisfied than women in the country, and the young more satisfied than older adults. 
To live in Israel or elsewhere?
The survey also examined how much of the Israeli public prefers to live in Israel versus any other country. 
Despite housing prices and the high cost of living, nearly three-fourths of Israelis (71.2%) prefer to live in Israel, as opposed to the 28.8% who would prefer to live in another country. 
Analyzing by age finds that the middle generation (ages 30-49) is more likely to want to live elsewhere with 35.3% reporting they'd prefer to live in another country. 
This is compared to 17.3% of those aged 50-65 and 30.3% of those aged 18-29. 
Politicians miss the mark
Survey respondents were also asked to grade five national bodies from a range of 1 to 5 based on their satisfaction with them. 
The Israel Defense Forces received the highest score, with an average grade of 4.5. The court system was second, trailing behind at 3 points. 
Rounding out the survey were the education system and the media, tied at 2.5, and the government with the lowest score - a failing average grade of 2.2 out of 5. 
National pride
An overwhelming majority of Israelis expressed pride at their nationalities. A total of 82.5% announced themselves proud to be Israeli, with nearly half of all respondents (49.2%) answering they were very proud. 
Only 1% of respondents showed absolutely no pride for their nationality, while 13.3% said they were moderately proud. 
Respondents were also asked whether they believed Israel would still be in existence 67 years from now. More than half (52%) were absolutely confident Israel would continue to exist, with another 26% largely confident. 
Only a small minority of very pessimistic Israelis (3%) believe the Jewish state will not exist in 67 years.