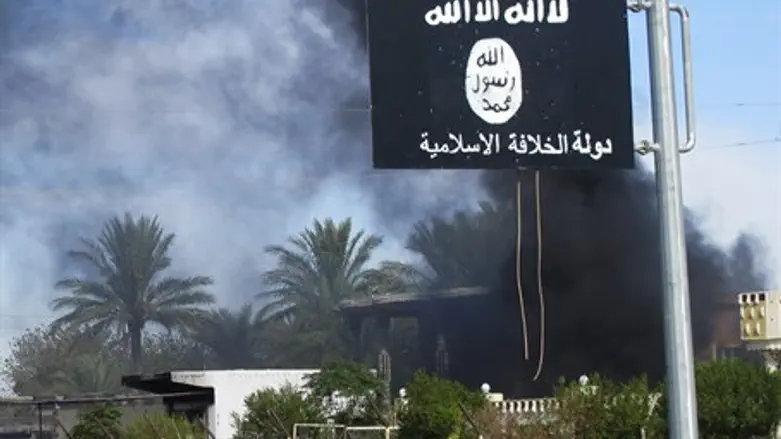 ISIS flag
Reuters
A 16-year-old American accused of planning to join the Islamic State (ISIS) group has been found guilty of illegal possession of a firearm in South Carolina, a prosecutor said Wednesday, according to AFP.
The teenager, who has not been identified because he is a minor, conspired with another person to travel to the Middle East with the intention of joining ISIS and "perhaps cause trouble in the United States," prosecutor Kevin Brackett alleged.
Because South Carolina does not have anti-terrorism laws, the youth was convicted on Tuesday of illegal possession of a handgun, an offense punishable by up to five years in prison, Brackett said.
"He was seduced by the ideology of ISIS," the prosecutor told AFP.
"I don't know specifically that ISIS reached out to him personally. But he was in contact with people in North Carolina who shared his views and he had embraced this sort of radical Islamic ideology and he wanted to travel to the Middle East to join ISIS and join that cause," added Brackett.
During the Tuesday hearing in the town of York, Brackett alleged that the youth wanted to use the handgun to shoot US military personnel.
The youth, who was arrested in February, apologized to the court for his actions and said he did not intend to carry out his plans.
"I just regret it," he said, adding he wanted "to go back to school, I want to change everything I did."
Audio of his comments were posted on the website of The Herald, a local newspaper, noted AFP.
His conviction followed the arrest of six Somali Americans from Minnesota who allegedly planned to travel to Syria to join ISIS.
They were charged on Monday with conspiring to support a terrorist organization.
In March, California resident Adam Dandach, who tried to travel to Syria last year, was charged with attempting to join ISIS.
A week earlier, three New York residents were arrested for plotting to join ISIS in Syria. One of the suspects had expressed intent to buy a machine gun and shoot police officers and FBI agents if thwarted in his plan to join ISIS.
Last October, three American teenage girls from a suburb of Denver were stopped in Germany on their way to join ISIS in Syria.
Three months earlier, in July, 19-year-old Shannon Maureen Conley was arrested at Denver International Airport as she was on her way to join the group in Syria.