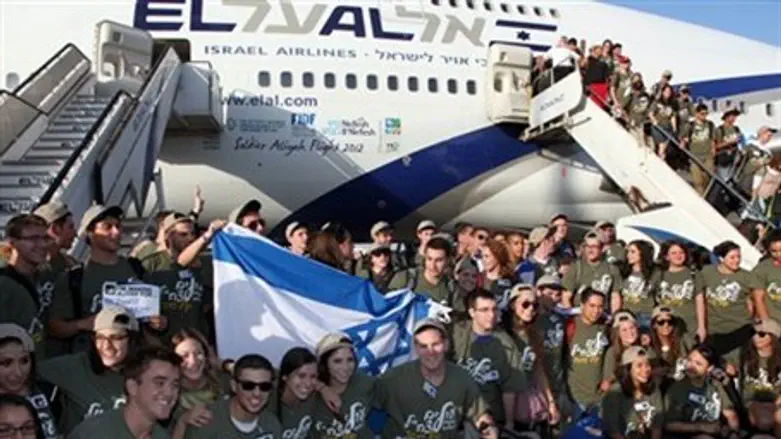 Lone soldiers' flight
Nefesh B'Nefesh
More and more young adults are flocking to Israel to join the IDF, Haaretz reports Wednesday, with a marked increase in 2014. 
Currently, some 3,484 soldiers have volunteered from more than 70 countries, according to the daily, up from 3,138 since 2011. Of those, 2,700 are new immigrants; 284 are non-citizens volunteering as part of the army's Machal program. 
Immigration organization Nefesh B'Nefesh (NBN) stated that the influx of "lone soldiers" has increased from 5-10% each year since the launch of the Lone Soldier program - a framework for volunteers from abroad with special benefits - and a senior officer stated that the past year has seen an unprecedented rise in volunteer soldiers. 
A full 25% of volunteer soldiers serving today are American, according to the report, followed by Russians (16%) and Ukrainian (13%). 10% of volunteer soldiers are French; 4%, Ethiopian; and Belarusians, British, and Canadian soldiers comprise 9% total (3% each). 23% of volunteer soldiers hail from other countries, including China, India, Iran, and several countries in Europe. 
Demographically, 70% of volunteers are men, versus just 30% who are women. 57% are combat soldiers (31% in active combat, 26% serving in support roles); 43% are in non-combat positions. 
The senior officer attributes the rise in volunteers to word-of-mouth, as well as Israel's increasing isolation around the world.