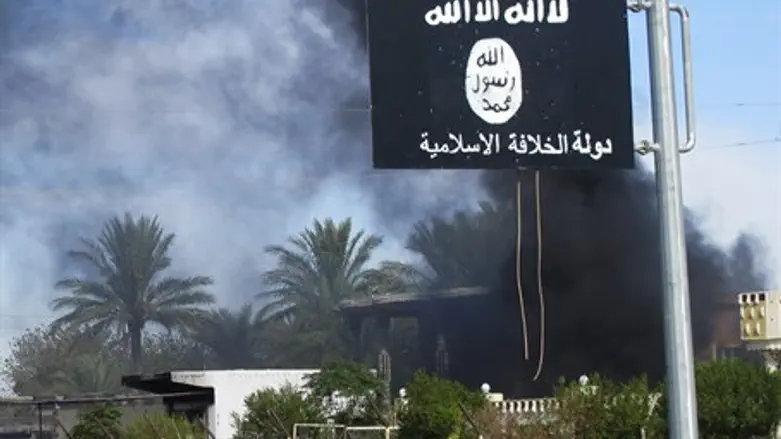 ISIS flag
Reuters
Six Somali-American men who planned to travel to Syria to fight as jihadists have been arrested and were to appear in court Monday on charges of conspiring to support a terrorist organization, AFP reports.
The case was the latest in a series in recent months concerning Americans who have been accused of or stopped from traveling to the Middle East to join extremist groups.
Federal prosecutor Andrew Luger told a press conference that the latest six suspects were from the northern state of Minnesota.
He said the arrests were the result of a 10-month investigation by a joint terrorism task force into an extremist recruitment ring.
The men, friends or acquaintances in what authorities described as a "peer-to-peer" recruitment effort, had planned to travel to Syria to join the Islamic State (ISIS) group over the past year.
In this they had the help of an acquaintance who had made it to the war-ravaged nation and was actively recruiting volunteers in Minnesota.
Four of the men were arrested on Sunday in Minneapolis, while two were arrested in San Diego, where they were trying to buy forged passports to help them cross into Mexico to journey on to Syria, according to prosecutors, according to AFP.
"They were not confused young men, they were not easily influenced. These are focused men who were intent on joining a terrorist organization by any means possible," Luger said.
The defendants were identified as Mohamed Abdihamid Farah, Adnan Abdihamid Farah, Abdurahman Yasin Daud, Zacharia Yusuf Abdurahman, Hanad Mustafe Musse and Guled Ali Omar.
Meanwhile on Monday, in a separate case, an American from New York was sentenced to 25 years in prison after admitting he had tried to join Al-Qaeda in the Arabian Peninsula.
"Marcos Alonso Zea presents a chilling reminder of the danger presented to the United States by homegrown terrorists," Attorney Loretta Lynch said of the man accused of seeking to "wage violent jihad" against enemies of Islam.
Earlier this month, a 30-year-old woman from Philadelphia was charged with attempting to join ISIS.
In March, California resident Adam Dandach, who tried to travel to Syria last year, was charged with attempting to join ISIS.
A week earlier, three New York residents were arrested for plotting to join ISIS in Syria. One of the suspects had expressed intent to buy a machine gun and shoot police officers and FBI agents if thwarted in his plan to join ISIS.
Last October, three American teenage girls from a suburb of Denver were stopped in Germany on their way to join ISIS in Syria.
Three months earlier, in July, 19-year-old Shannon Maureen Conley was arrested at Denver International Airport as she was on her way to join the group in Syria.