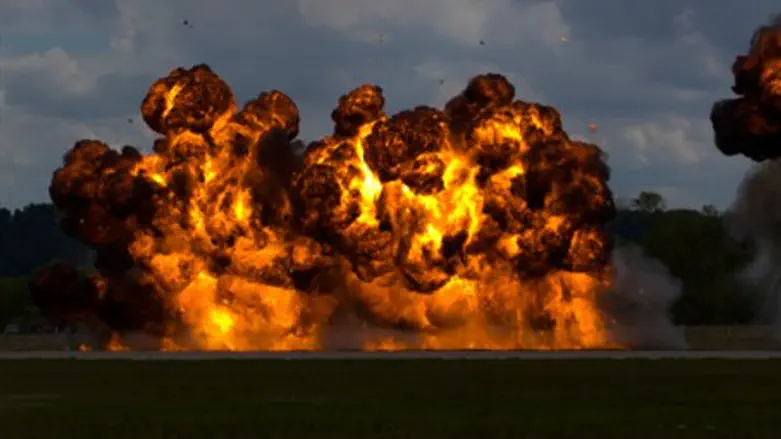 Explosion (illustrative)
Thinkstock
An explosive device went off near the offices of the UN Agency for Palestinian Refugees (UNRWA) in Gaza City Saturday night, AFP reported.
A second struck near police headquarters, the report said. UNRWA and Gaza security officials said there were no dead or injured.
"A bomb exploded near the outer wall of the headquarters of UNRWA in Gaza, about three meters from the door, causing no casualties or damage," UNRWA spokesperson Adnan Abu Hasna told AFP.
Hamas security services said an investigation was opened following the explosion of two homemade devices, "which caused limited damage and no casualties."
UNRWA facilities in Gaza were at the forefront during last year's Operation Protective Edge. During the operation, no fewer than three UNRWA schools were found to be serving for storage of rockets for the terrorist organizations Hamas and Islamic Jihad. 
After the first finding of rockets at an UNRWA school, it was reported that rather than destroying the rockets, UNRWA workers called Hamas to come remove them to use in their terror war on Israeli civilians.
In another incident, three IDF soldiers were killed and seven others wounded in a booby-trapped UN clinic that was situated on top of terror tunnel entrances, showing the complicity of the UN in Gaza-based terror against Israel.
During the course of the Israeli operation, it was Israel that was criticized, both by the UN and the U.S., for attacking UNRWA facilities. Washington called one strike on terrorists operating adjacent to a UN school "disgraceful."
The IDF proved that terrorists in several cases fired rockets from the schools, prompting the response.